Uruguay needs to improve infrastructure, "especially roads and port facilities"
Monday, September 29th 2014 - 08:54 UTC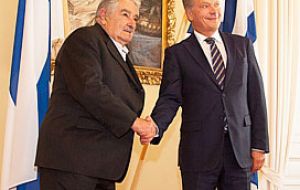 Finland's UPM, one of the largest forestry groups in the world, does not intend for the moment to build any new pulp mills in Uruguay, said Jaakko Sarantola, vice president of the cellulose division of the company, who also pointed out that Uruguay needs to improve infrastructure to facilitate logistics.
Earlier this month Uruguay's president Jose Mujica travelled to Finland to meet with the board of UPM to boost negotiations to build another pulp mill in the country, anticipating Finland was interested in keeping investing in Uruguay.
"We're flattered that president Mujica traveled from Uruguay to talk to us. We are ready to speak with the Uruguayan government, but the construction of a new pulp mill is currently not on UPM's agenda" Sarantola said in an interview at the time.
He added that before UPM can boost their investments in Uruguay, the government needs to "improve the infrastructure to facilitate logistics, especially the road network and port facilities".
"We know Uruguay very well, we have been working there for almost 25 years and we are aware of the opportunities and challenges facing the country," he added.
The meeting, according to Sarantola, focused instead on the need to improve the infrastructure of Uruguay, "a prerequisite for progress in the development of this industry."
Mujica and UPM executives also discussed the importance of education for technically-trained personnel in the fields of engineering and forestry.
"The foundation of competitiveness is to have enough people ready to develop this activity, especially when it comes to small countries with limited resources such as Uruguay and Finland," Sarantola added.
UPM's operations in Uruguay include the pulp mill in Fray Bentos on the banks of the Uruguay River, and another UPM logging company in Forestal Oriental, which manages about 230,000 hectares (568,000 acres) of land, of which 60% are eucalyptus plantations.
UPM acquired these businesses from the Finnish company Botnia in 2009 in a 2.4 billion deal. Last June, the Finnish group was authorized by the Uruguayan government to increase production to 1.3 million tons per year, which rekindled a diplomatic dispute with Argentina.
According to Sarantola, the factory will not reach full capacity until the second half of 2015, as it will be necessary to get "small additional investment" in order to increase the production process.