Argentina/China trade forecasted to boom in Yuan-denominated operations
Tuesday, September 30th 2014 - 22:50 UTC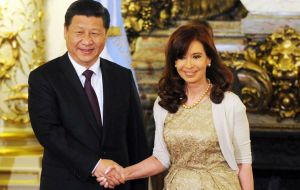 Trade between Argentina and China could see a rise in Yuan-denominated operations after the bilateral currency swap deal that was sealed earlier this year, according to key leaders of the Sino-Argentine business community in Buenos Aires.
There has been an "increase in both operations and inquiries," Miguel Zielonka, the director of Global Markets for the Industrial and Commercial Bank of China (ICBC)'s Argentina subsidiary, said.
Importers in Argentina can now get "better negotiating conditions" as Chinese exporters can avoid the risk of exchanging Yuan for dollars, before dollars get converted into Pesos in Argentina.
ICBC is not the only bank that operates in Yuan. Hong Kong's HSBC does part of its Argentine businesses in the Chinese currency as well.
Ernesto Fernández Taboada, executive director of the Argentine-Chinese Trade Chamber, sees an increase in Yuan-denominated commerce as "a certainty" for similar reasons.
"We can now be sure that in the event of a medium or long-term trade agreement to import Chinese products, the company that sold them to us won't ask us to update prices due to a change in the value of the dollar," he said.
Argentine companies have been able to import products paying directly in Yuan for several months now, Fernandez Taboada added.
Strengthening trade between the countries was one of the stated goals behind July's 12bn dollars currency swap deal between Argentina's Central Bank and China. It was also seen as a way to prop up the country's foreign-currency reserves.
Ties between Argentina and the Asian giant have been deepening, with President Xi Jinping visiting the country in July and confirming Chinese investments in hydroelectric and nuclear energy, plus railway and maritime infrastructure, as well as clearing the ground for the swap deal that was confirmed days later.
But they are part of a larger trend, both nationally and regionally. The swap deal was not the first, with an even bigger one preceding it in 2009. Indeed, Nestor Kirchner's famous 2004 announcement about expecting 20bn dollars worth of Chinese investments in the country could be seen as the beginning of this story.
During his last visit, Xi hailed the progressive relationship between both countries.
"We have just marked 10 years in the strategic association between Argentina and China and the time has come to open new horizons," he said. "Our two countries find themselves at a historic starting point."
Trade between China and Latin America saw a whopping 1,200% increase between 2000 and 2009, a trend that has continued since. Accordingly, China has also been increasing its regional clout when compared to the traditional European and North American metropolises. Massive trade-oriented infrastructure projects, such as the Nicaraguan Channel, expected to be financed by China in the next decade to counter the traditionally US-dominated Panama Channel, have also made progress.
According to ICBC's data, this year the Yuan displaced the Swiss franc as the seventh most widely used currency in international trade, rising from 0.63% of operations to 1.39%, more than doubling its share of the pie. It is widely expected that this trend will continue, with some analysts claiming it could become an international reserve currency, such as the dollar or Euro. (BAH).-