Argentine reserves below 28bn dollars; bonds payments of 170m on Tuesday
Tuesday, September 30th 2014 - 05:11 UTC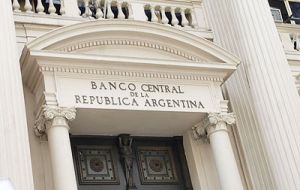 The informal of "blue" dollar in Argentina fell back 15 cents to 15.55 Pesos after it skyrocketed 75 cents last week and scraping 16 Pesos. The formal US dollar meantime advanced three cents to 8.49 Pesos at the end of trading in Buenos Aires City banks and foreign exchange offices. The gap between the two rates dropped to 83.9%.
The blue-chip swap rate was up by 21 cents to 14.90 Pesos while the stock exchange rate climbed 28 cents to 15.14 pesos.
Meanwhile the Argentine central bank international reserves dropped below 28bn dollars to 27.944 following a 99m loss on Monday compared to last Friday. As usual the bank entered trading on Monday with an estimated 50 million dollars but there were not enough purchased to compensate.
On Tuesday the central bank is scheduled to deposit 170 million dollars to pay bond holders coupon at a special account in the Banco Nacion, which is the new fiduciary agent of Argentina, following the New York court rulings which blocked funds at the Bank of New York Mellon and declared Argentina in contempt of court.
Of that sum 16m are ruled by Argentine law while the rest under US, Europe and Japan jurisdiction.
The money deposited will pay 2005 and 2010 restructured bond holders in dollars, Euros and Yens. Argentina is also scheduled to pay 85m in October; 207m in November and 852m in December, plus other maturities in Pesos.
Payments will be done either in Argentina or France or wired to wherever demanded in accordance with the latest bill approved by the Argentine congress which allows a change of location to pay bond holders.
The bill was voted to circumvent Judge Thomas Griesa ruling which demands simultaneous payment of restructured bonds and the so called 'holdouts' which Argentine describes as 'vulture funds', and have a decision to be paid full value plus interests for their bonds, since they refused to accept Argentina's restructured bonds conditions.
The sum involved is 1.3bn dollars plus interests but Argentina refuses point blank to pay that sum but rather offers the same conditions as the rest of restructured bonds.
The bill also contemplates naming a new fiduciary agent, in this case the Banco Nacion to avoid the Bank of New York Mellon which has 586m dollars of a previous payment frozen on orders from Judge Griesa.
On Monday Judge Griesa declared Argentina in contempt of court due to the nation's actions in attempting to change debt jurisdictions as a result of the ongoing judicial conflict with holdout investors presided over by the US magistrate.