Argentine president claims the US wants her removed: "if something happens to me, look North"
Wednesday, October 1st 2014 - 07:42 UTC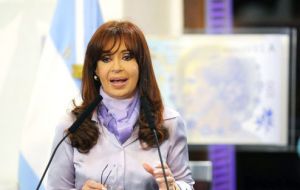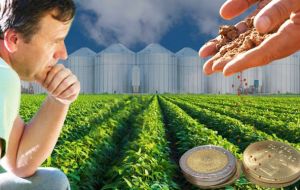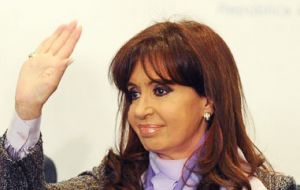 Argentine president Cristina Fernandez defiantly claimed on Tuesday that financial, industrial and local political groups together with outside support want to remove her from office, and warned that "if something happens to me, don't look to the Mid East, look North" in clear reference to the United States.
In a national address from a Government House packed with officials and chanting supporters, Cristina Fernandez referred to threats on her life by the Islamic State (IS), currently fighting against US air strikes in Iraq and Syria. However, this time she suggested that the Islamic radicals were not a threat to her or her administration.
"If something happens to me, look north. Not east" the President warned in a speech that was primarily focused on Monday's adverse ruling by US Federal ('municipal' and 'senile') judge Thomas Griesa.
"They are firing missiles on the Mid East, only God knows what is really happening there, but they won't fire missiles on Argentina, they are sending financial and speculative attacks on Argentina, they seek to bring down our successful restructuring process and the benefits achieved by Argentine workers. Beware, they want force us to pay billions of dollars", blasted the Argentine leader, who spoke for well over two hours.
"If they need to destroy international norms for that, they will," Cristina Fernandez added, in reference to the holdouts that rejected entering the two debt swaps which took place on 2005 and 2010, and have a favorable ruling to be paid the full face value, plus interests on their bonds. .
"This is not a problem of one party or one government. It's a problem of all the Argentine people," insisted the president.
According to Cristina Fernandez her administration "is fulfilling the rules established by the recently approved Sovereign Payment Law, which includes 100% of bondholders. Those who entered [into the debt swap] and those who did not". But the law skirts Judge Griesa's decision on the holdouts.
Government House was packed with cabinet minister, governors, lawmakers, human rights activists and officials, plus hundreds of militants that cheered and chanted in support of the president from the several patios of the building.
But the president not only blasted the United States, Judge Griesa, the interim ambassador in Buenos Aires, plus the 'vulture funds', she also targeted local bankers, financial institutions, farmers and industrialists, for allegedly conspiring to change economic policies and force a strong devaluation of the Argentine currency.
"We have local financers among us who conspire with the vulture funds, we have the soybean farmers who have lost fortunes for being silly and not selling the beans on time as they were recommended. They preferred to speculate with prices by sitting on a third of the soybean crop, while prices dropped from almost 600 dollars to 360 dollars. Now one of their leaders admits they were wrong".
The Argentine president argued there is a two-prong movement in Argentina made up of those exporters who lost money because of their stupidity and incompetence, and the car manufacturers who hide the vehicles and tell consumers they have none in stock..."but they are after a devaluation to make up losses and skim the people and consumers".
And they also want a devaluation "to water down the salary agreements reached by the Argentine workers unions (30% annual increase)", claimed the president, who then went on to give the names of a list of banks, stock brokers and financier families that have been involved "in promoting a run on the US dollar to force a devaluation".
"We're going to impose stricter controls, we're going to demand the central bank and regulators apply the law in all its terms; there are 80.000 filed complaints in the Central bank, since the eighties referred to illegal currency transactions which have never been addressed", revealed Cristina Fernandez.
"It's clear they want an end to our debt restructuring, an end to the labor contracts, they want a return to the past, when Argentina was on its knees begging for money at exorbitant interest rates. In the nineties Argentina supposedly was the best of the class for the multilateral organizations, but it was all a castle of cards and when it all collapsed, instead of helping out they came running to recover their money".
Finally addressing the hundreds of chanting militants, Cristina Fernandez called on them to defend Argentine sovereignty and dignity. "Forget about me, nobody is going to touch me, the only person who could touch me is no longer with us, we, you have to be united and prevent Argentina from falling into the hands of those who want a return to conditions of the past: the vulture funds and even worse their conspiring allies among us, who want to see Argentina indebted, helplessly at the mercy of speculators".