US calls on Argentina "to normalize relations with all bondholders"
Wednesday, October 1st 2014 - 08:09 UTC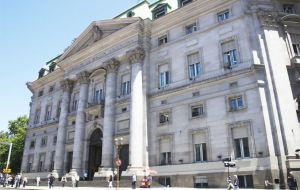 While the US State Department again called Tuesday on Argentina 'to normalize relations with all its bondholders', the government of President Cristina Fernandez deposited a 161 million dollars bond interest payment with a newly appointed local trustee on Tuesday, defying a U.S. judge who held Argentina in contempt of court on Monday for taking illegal steps to meet its debt obligations.
Argentina is determined to show it can service its debt and that its failure in July to complete a payment to holders of bonds that were restructured after its 2002 default was the result of adverse U.S. judicial rulings.
"By making this deposit, Argentina confirms once again its unshakeable commitment to meet its obligations to bondholders," the ministry said in a statement.
However it is not clear how many bondholders would receive their coupon payments before the end of the Sept 30 deadline without the assistance of foreign financial intermediaries, which could violate the U.S. court orders if they aid Argentina.
Luxembourg-based clearing house Clearstream said it always abided by court rulings and a source at the trustee bank, state-controlled Nacion Fideicomisos, acknowledged little of the deposit had been transferred to creditors.
If the funds fail to reach bondholders, a 30-day grace period would be triggered, after which the default, which has so far confined to Discount bonds, would spread to the Par series.
The central bank deposited the coupon payment on its foreign law Par bonds with Nacion Fideicomisos after the government removed the former trustee, Bank of New York Mellon Corp, to skirt the U.S. court rulings.
Argentina's July selective default came after U.S. District Judge Thomas Griesa blocked an end-June coupon payment, barring it from servicing its restructured debt until it paid in full a small group of U.S. hedge funds that rejected the terms of bond swaps in 2005 and 2010.
The Argentine government responded by enacting a law allowing it to make payments locally to keep the money beyond Griesa's reach. Griesa on Monday held Argentina in contempt and issued a warning that the government must stop trying to get around his rulings.
On Tuesday the US State Department said it "was following the situation closely" and insisted that all along the dispute "our stand is clear. It is in Argentine interest to normalize relations with all its bondholders".
The statement from a spokesperson was in reply to the letter sent by the Argentine government to Secretary of State John Kerry before Monday's ruling, declaring Argentina in contempt of court, and warning of the consequences of such a decision.
Argentina's ambassador in Washington Cecilia Nahon delivered the official document where she anticipated the legal risks that Federal Judge Thomas Griesa's decision could have.
According to Nahon, such ruling could have serious consequences, exposing the US government to legal responsibilities.
However the situation did not have much impact at the State Department daily media conference. On Monday spokesperson Ms Psaki was asked about the letter to Secretary Kerry from the Argentine government, but the reply was "I haven't seen that report". On Tuesday there were no questions on the Argentine situation at the State Department.
Apparently the US State Department is preparing an official reply to Argentina Monday's letter warning on the consequences of Judge Griesa's actions.