Buenos Aires shares plunge 8.2%; US dollar trades cautiously fearing raids
Thursday, October 2nd 2014 - 07:24 UTC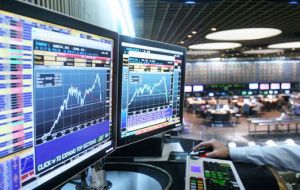 Buenos Aires shares plunged on Wednesday 8.2% to 11.516,28 units following the news that the Central Bank chief Juan Carlos Fabrega had resigned. The Merval benchmark stock index has risen 132% so far this year.
Fabrega's resignation took place after President Cristina Fernandez blasted stock market entities and local banks for the exit of dollars while speculating with its price, also involving privileged information.
The Buenos Aires stock market, Merval, also felt Wall Street's decline, as US stocks were down more than 1% on Wednesday as the first diagnosis of Ebola in a patient in the United States spooked investors and put pressure on airliners and other transportation companies.
In the money exchange market and following the Argentine government's warning against banks and financial agents who "speculate" with US dollar informal rates, the so-called "blue" dollar dropped 10 cents to 15.60 pesos, while the blue-chip swap rate plunged 84 cents to 14.36 pesos and the stock exchange rate dropped 43 cents to 14.56 pesos.
In line with the warnings, Argentina's national securities watchdog (CNV) carried out an inspection on Balanz Capital and Mariva Bank earlier on Wednesday. Both financial entities were questioned by President Cristina Fernández in her speech over alleged speculation with dollar rates and money laundering.
At the end of trading in mid afternoon Wednesday, the official rate of the US currency rose three cents to 8.47 pesos in Buenos Aires City banks and foreign exchange offices following on Tuesday's five-cents decline, the biggest in eight months, pushed by the Central Bank and Banco Nacion, who sold 40 million and 60 million dollars respectively.