Argentina: Vanoli meets Cristina Fernandez and begins working at the central bank
Friday, October 3rd 2014 - 07:23 UTC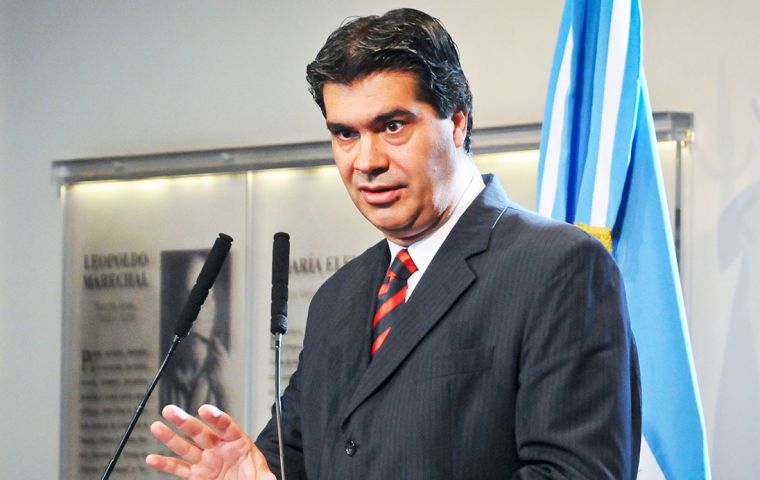 In his first activity since his designation as the new chief of the Argentine Central Bank, Alejandro Vanoli met on Thursday President Cristina Fernandez and Economy Minister Axel Kicillof in Olivos.
In the meeting which took place during the afternoon, Vanoli coordinated his first steps with the head of state, emphasizing the struggle against capital flight and the improving of controls over the financial sector.
After the meeting he went straight to the Central Bank, where he led several meetings with his colleagues and announced he will maintain Juan Basco and Jorge Rodriguez in their previous jobs; responsible for the interventions within the exchange market.
Vanoli, who replaced Juan Carlos Fábrega is expected to receive the Senate approval in the coming days.
In the morning Cabinet chief Jorge Capitanich said that the mission of recently appointed BCRA governor Vanoli is to enforce the Bank's charter, guaranteeing and encouraging "an environment that is favorable to economic activity, employment and investment."
The chief of ministers explained in his daily press briefing at government house that Vanoli's appointment, who is to replace former BCRA head Juan Carlos Fabrega, is now subjected to the Senate's approval.
Capitanich stressed that the new BCRA governor is to "set clear conditions for exchange rate policy and monetary stability" as well as the regulation of the country's financial institutions.
The official denied any plans to reform Argentina's Financial Institutions law.
Later cabinet chief Capitanich reported that Argentina had signed a credit agreement with the Inter-American Development Bank (IDB) for 1.2 billion dollars for the rest of the year.
IDB representatives met with government officials in Capitanich's office in Government House and also analyzed the 62 ongoing projects between the multilateral credit entity and Argentina.
Capitanich stated Argentina's credit benefits with IDB total up to 9.5 billion dollars of which 4.6 billion remain to be spent, mainly in drinking water supplies and road infrastructure.