Obama and Cameron condemn brutal murder of British captive Alan Henning
Saturday, October 4th 2014 - 10:44 UTC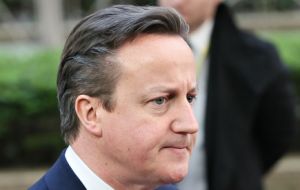 President Barack Obama condemned on Friday the "brutal" murder of British captive Alan Henning on Friday, saying the United States would bring those responsible to justice.
"Standing together with a broad coalition of allies and partners, we will continue taking decisive action to degrade and ultimately destroy ISIL," he said in a statement, referring to the Islamic State jihadist group that killed the aid worker.
In a video released by the group in response to US-led air strikes against it, a masked IS fighter beheads Henning and threatens a US captive, aid worker Peter Kassig.
The footage, almost identical to three previous execution films released by the group, inspired revulsion around the world and drew a stark warning from Obama and Britain`s Prime Minister David Cameron.
"Mr. Henning worked to help improve the lives of the Syrian people and his death is a great loss for them, for his family and the people of the United Kingdom," Obama said in the statement.
"Standing together with our UK friends and allies, we will work to bring the perpetrators of Alan`s murder -- as well as the murders of Jim Foley, Steven Sotloff and David Haines -- to justice."
American reporters Foley and Sotloff, and Haines, a British aid worker, were all previously executed on camera.
From London Prime Minister David Cameron said that the "brutal murder shows how barbaric and repulsive these terrorists are".
"My thoughts and prayers tonight are with Alan's wife Barbara, their children and all those who loved him.
"Alan had gone to Syria to help get aid to people of all faiths in their hour of need. The fact that he was taken hostage when trying to help others and now murdered demonstrates that there are no limits to the depravity of these ISIL terrorists.
"We will do all we can to hunt down these murderers and bring them to justice", c concluded PM Cameron.