Sao Paulo state, Brazil's largest electoral district delivers solid win for Neves party
Monday, October 6th 2014 - 07:51 UTC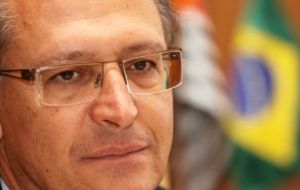 The social-democrat (PSDB) governor from the state of Sao Paulo, Brazil's largest electoral district, Geraldo Alckim was re-elected on Sunday with 57,7% of ballots, which ensures a strong spring board for the presidential runoff between president Dilma Rousseff and her PSDB challenger on 26 October, Aecio Neves.
Alckim's runner up was Paulo Skaf an industrialist from the PMDB (Brazilian Movement for Democracy party) with 21.56% of votes and finally Alexandre Padilha from the ruling Workers party of Rousseff with 18%.
For Alckim, an anesthetics doctor, this is his fourth mandate as Sao Paulo governor and the second consecutive. He ruled the state with 31 million registered voters between 2001/2006 and again in 2011. In 2006 he challenged Lula da Silva's re-election bid but lost, anyhow he is well positioned to dispute the 2018 presidential election.
Alckim's victory is particularly significant since all along the campaign he was hammered because of the water shortage the state of Sao Paulo is suffering, the worst in recorded history, and which could force rationing in the state which represents almost a third of Brazil's GDP.
And the PSDB party hegemony in the state was also confirmed in the Senate seat election which went to Jose Serra, a former presidential candidate, former mayor of the Sao Paulo City and Health minister. Serra was supported with 58.8% of ballots and his main rival, Eduardo Suplicy, a historic figure of the ruling Workers party, only managed 32%.
This means that Rousseff's party in Sao Paulo state is now in third position despite the fact that the mayor of Sao Paulo city is Fernando Haddad, a former Education minister under President Lula da Silva.
Sao Paulo is a crucial district for the presidential run-off on 26 October, particularly taking into account that in the richest state of the union, the PSDB of Alckim is an ally of Aecio Neves' PSB.