Spanish fighter jets enter Gibraltar air space in "reckless and dangerous" stunt
Monday, October 6th 2014 - 06:48 UTC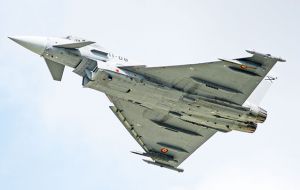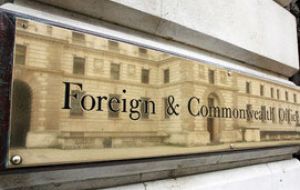 Spanish fighter jets illegally entered UK airspace to fly "across the bows" of a British airliner in a "reckless and dangerous" stunt over Gibraltar, according to a report in the Sunday Express.
The incident, being investigated by the Foreign Office, happened as the Monarch flight carrying passengers from Manchester was making its delicate approach on to the Rock, the UK newspaper reported in a front page article.
The Sunday Express said the passenger jet's captain reported seeing the two aircraft less than half a mile away and air traffic controllers at Gibraltar International Airport noticed "two dots" on their radar just before 10.30am on September 19.
According to the report, both jets, thought to be Eurofighter Typhoons, were clearly in Gibraltar airspace without permission but attempts to communicate with them were ignored.
A Foreign Office spokesman told the Sunday Express: "We are aware of the incident on September 19. We are reassured that there was no risk to safety caused by the activity of the jets."
"We are continuing to examine the incident to ascertain whether it was within the lawful right of passage."
A Gibraltar Government spokesman said: "Spanish vessels already regularly violate the sovereignty of our waters."
"It is intolerable that Spanish military aircraft are now not only infringing our airspace but also behaving in a reckless and dangerous manner."
This is not the first time that Spanish military jets have flown close to the Rock. In July last year, the Gibraltar media reported on how four Spanish jets "buzzed" the Rock and delay to a commercial flight.
The four planes – the Spanish version of the Harrier jet – were flying back to the Spanish aircraft carrier Juan Carlos I, which was on a training exercise about 10 miles southeast off the Rock.