Ambassador Castro criticizes 'holdouts' and thanks UK unions' support for Argentina
Tuesday, October 7th 2014 - 06:16 UTC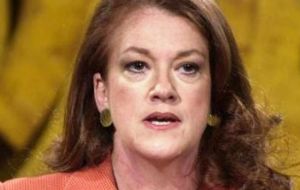 Argentine ambassador in the United Kingdom, Alicia Castro has fiercely criticized the conduct of holdout investors and thanked UK unions for their support in the dispute with 'vulture funds', during an address to the British umbrella trade union UNITE.
Ms Castro was one of the main speakers invited to a discussion event on the subject, "For peace, progress, social development and sovereignty: Venezuela and Latin America".
"I want to take this opportunity to thank all those who supported Argentina in our fight against the vulture funds. We are convinced of the need to prevent this threat, not only for Argentina and its workers, but to all countries and their capacity to stimulate their economies and create jobs", Castro stated.
"Trade unions the world over condemn this ruthless profiteering strategy led by the vulture funds that aim to undermine our economy, with a direct impact on our workforce", she explained in the debate organized by the UK unions on Latin America.
Addressing a packed audience comprising political activists, diplomats and students, Alicia Castro spoke about the process of Latin American integration that has been taking place over recent years, highlighting the consolidation of Mercosur and the foundation of UNASUR and CELAC as pillars for regional unity, "bodies created to forge a union between our nations that is based on our common aims and shared natural resources. Our region is a bloc that is determined to find unity in diversity, to develop its self-esteem, to forge economic independence and to exercise its political sovereignty".
"San Martin and Bolivar conceived the well-being of our peoples as being constructed upon two necessarily interrelated accomplishments: independence and unity. Yet once Independence was achieved, the search for unity was abandoned and forgotten for two hundred years. Today the progressive governments of our region are completing that task by forging union between our peoples", the Ambassador stated, noting that, "Today Latin America is, first and foremost, a region of peace".
"We do not believe in war as a means of resolving disputes, we do not believe in foreign interventions. Argentina and our region advocate diplomacy and multilateralism as a means of continuing to further peace in the world and dialogue between nations", she concluded.
Alicia Castro particularly praised the role played by Hugo Chavez in this process: "At a time when our region's governments were imposing brutal austerity measures and disaffection with politics and protests were on the rise, Chavez's government stood out as an example to follow; he guided the emergence of a new Latin America that - as President Cristina Fernandez said - is undergoing a second independence."
The event was organised by the Venezuela Solidarity Campaign, a movement of British political activists that includes the Labour ex-Mayor of London, Ken Livingstone, as its honorary president.