Enhancing safe navigation in polar waters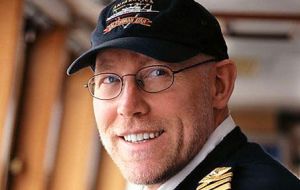 The Association of Arctic Expedition Cruise Operators (AECO) and the International Association for Antarctica Tour Operators (IAATO), in cooperation with Lindblad Expeditions, have found a way for cruise operators to share years of depth soundings from the Arctic and Antarctica.
AECO and IAATO have long been working on finding a useful hydrographic crowd-sourcing system, where historical and future data from soundings can be easily and pragmatically shared. After several years of assessments and taking part in different crowd-sourcing trials, a solution has been found to share seafloor depth information.
Existing crowd-sourcing systems make sharing of depth soundings possible from the day you install the system. The challenge has been to find a way to share historical data. Cruise vessels that have been operating in Antarctica and the Arctic for decades have been accumulating large files of depth soundings. It was crucial that this project found a way to exploit these valuable data.
Captain Leif Skog of Lindblad Expeditions, a long-time member of IAATO, and one of the institutors of AECO, took the lead in this effort. He said, "It has taken considerable work and time to set up this system but now ten years of continuous, historical, hydrographic data are available, including hundreds of mud maps from the Arctic and Antarctica covering most expedition destinations".
In some areas of Antarctica and the Arctic, official sea-charts are limited and these historical crowd-sourcing files are considered extremely valuable add-ons to the official hydrographic charts.
"We are very happy that the industry associations, through joint effort and cooperation, are able to contribute to enhancing safe navigation in polar waters", said Dr. Kim Crosbie, Executive Director of IAATO.
Crosbie also noted that this work complements a previous initiative by IAATO Member Stephen Wilkins of the yacht Xplore, who worked with the French Hydrographic Office to cost effectively produce a series of charts for the Antarctic Peninsula last year.

For this new initiative, coverage includes areas in the Antarctic Peninsula, Svalbard, Greenland and some other Arctic areas. "Arctic operations cross borders and cover a huge area. We are very glad that the industry can add to the national efforts on sea- chartering in this way", said Frigg Jørgensen, Executive Director of AECO.
Sharing of historical depth soundings is available to members of AECO and IAATO, as well to relevant authorities.