Griesa orders Argentina to reinstate BoNY as trustee for bondholders' payments
Tuesday, October 7th 2014 - 00:43 UTC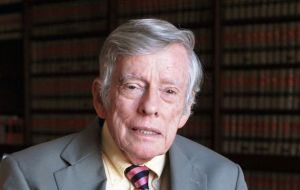 US Judge Thomas Griesa has ordered Argentina to reinstate the Bank of New York Mellon (BoNY) as trustee for bondholders payments and "reverse the steps taken" with the approval of the so-called Sovereign Payment law that replaced it with the country's Nacion Fideicomisos.
The judge's order made public on Monday was ordered last Friday in an amendment to his September 29 ruling when he declared Argentina in contempt of court.
"The Republic of Argentina will need to reverse entirely the steps which it has taken constituting the contempt, including, but not limited to, re-affirming the role of The Bank of New York Mellon as the indenture trustee and withdrawing any purported authorization of Nación Fideicomisos, S.A. to act as the indenture trustee, and complying completely with the February 23, 2012 injunction," Griesa ordered.
Argentina must also comply fully with the judge's February 2012 order barring the nation from making payments on its restructured debt before paying more than 1.5 billion owed to holders of its defaulted bonds, he said.
Argentina deposited 161 million dollars with Nacion Fideicomisos, a unit of the state-run Banco de la Nacion Argentina, last month in connection with a Sept. 30 interest payment on its restructured debt.
The Argentine government is trying to pay bondholders outside U.S. court jurisdiction to avoid being forced to comply with Griesa's orders and under the recently approved Sovereign Payment law gives the option of collecting the money in Argentina or France. Griesa has ruled that Argentina's moves to change the way bondholders are paid are illegal.
The Judge's orders triggered a default on Argentina's performing debt when BNY Mellon refused to forward to bondholders a 539 million dollars payment on July 30.
Holders of the original bonds, led by Paul Singer's Elliott Management Corp., asked Griesa last week to fine Argentina 50,000 dollars a day until it complies with his orders. The judge didn't immediately rule on what sanction he may impose.
The case is NML Capital Ltd. v. Republic of Argentina, 08-cv-06978, U.S. District Court, Southern District of New York (Manhattan).
Last week also Judge Griesa enabled JP Morgan to process a one-off payment on US dollar-denominated bonds issued under Argentine law. The judge granted a temporary stay to the financial entity, which allowed JP Morgan to process a 5 million payment that was due on September 30.
JP Morgan follows Citigroup on the matter, as the bank was granted to process a one-off payment on bonds issued under Argentine law.