Brazilian and Chinese banks support for Argentina in bonds litigation confirmed
Wednesday, October 8th 2014 - 03:50 UTC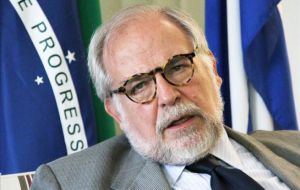 Brazil's PTG Pactual Bank and the China Construction Bank are at the forefront of the initiative to buy up the 1.6 billion dollars of debt which Argentina owes "holdouts" NML-Elliott and Aurelius, according to a report from Buenos Aires Ambito Financiero, the country's leading financial newspaper.
This alliance between a major Brazilian merchant bank (headed by the billionaire Andre Esteves) and one of China's "Big Four" — who undoubtedly both have the financial capacity to fund this operation — was confirmed last week to Ambito by Marco Aurelio Garcia, Brazil's special presidential advisor on foreign policy and Mercosur trouble-shooter under both the Lula da Silva and Dilma Rousseff administrations.
Garcia at the time said it was his belief that Argentina's conflict with the holdouts could be settled at a very early point of 2015 with Brazilian aid, but refused to give names and discarded any official Brazilian government support insisting on discretion.
The Dilma Rousseff administration seeks "maximum discretion" for this operation while keeping the Argentine government informed, Garcia admitted. The banks involved names were supplied by other Brazilian officials to Ambito.
The idea is for the two banks to buy up the Argentine liabilities held by the holdouts and applying the general haircut formula with the friendly banks expected to profit from the subsequent gains in value of these bonds.
But the operation will have to await expiry of the RUFO (rights upon future offers) clause at the end of this year.
In late August, Economy Minister Axel Kicillof went to Brasilia to woo Brazilian support but his efforts were focused on BNDES state development bank, which proved impossible in the midst of a complicated election campaign.
However both banks have ample funds — BTG Pactual was capitalized at 14 billion dollars last month while the China Construction Bank, the economic superpower's second-largest, is a giant worth 170 billion.
"This possibility seems to us a good solution. The other problems will have to be resolved by the Argentines themselves. But it will all have to be done on the quiet because the key to this kind of negotiation is discretion."
Garcia likewise strongly criticized the actions of the 'vulture funds' and the "brutally insensitive" attitude of the Barack Obama administration with regard to Argentina, explaining that it was in the interest of Brazil's government and its important companies that Argentina's economic situation be stabilized. Argentina is one of the leading trade partners of Brazil.