Uruguay presidential race to be decided in runoff in November seems confirmed by latest poll
Wednesday, October 8th 2014 - 08:24 UTC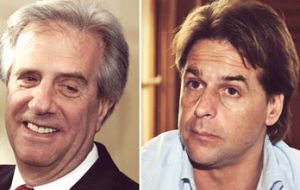 A run off in November to elect Uruguay's president seems most certain because none of the two leading candidates will manage a majority in the first round on 26 October, according to the latest public opinion poll.
The Factum poll showed former president Tabare Vazquez (2005/2010) and candidate for the ruling Broad Front coalition with 42% vote intention, while runner up lawmaker Luis Alberto Lacalle Pou, from the National party has a solid 32%.
Senator Pedro Bordaberry from the Colorado party, remains with a vote intention of 15% while Pablo Mieres from the Independent party figures with 3%. Other small parties have 2%, with 3% still undecided and another 3% who declared blank or annulled vote.
The poll did not release what could happen in a runoff at the end of November.
Factum said the poll was done between 26 September and October first, interviewing 1.000 residents in the country and with an error margin of plus minus 3.2 percentage points.
The pollster said that the percentages have remained virtually unchanged in the last few weeks with some variation among those still undecided or who report not having made up their minds.
Based on these percentages it is 'most certain' that there will be a runoff at the end of November between Vazquez and Lacalle Pou, to decide who will be receiving the presidential sash next March first.
Likewise it is "most uncertain" that the Broad Front can retain the legislative majority it has enjoyed since taking office in 2005 and again in 2010.