Argentina doesn't need international credit, "we have foreign currency to face debt maturities"
Monday, October 13th 2014 - 07:17 UTC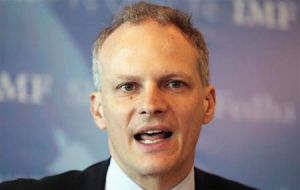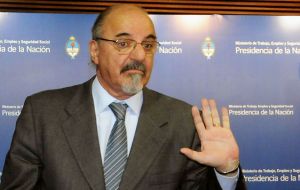 Argentine Economy Minister Axel Kicillof has assured that the government of president Cristina Fernandez is not seeking international financing despite current economic problems, since it has foreign trade surpluses and all the foreign exchange needed to face debt maturities.
"Argentina is not precluded from international credit, but it has decided not to take it," stated the minister who attended the IMF and World Bank annual assemblies in Washington.
"The government is not against external financing, the problem are its sources, the conditions tied to these loans," Kicillof admitted in an interview with Buenos Aires government financed Página/12 newspaper.
The minister said that Argentina has achieved foreign trade surpluses and that it "has the foreign exchange needed to face debt maturities."
"Historically, Argentina's development was subjected to recurrent trade balance crisis," the official said. "Development processes intensively use foreign currency."
Kicillof explained that "the mediocre growth of global economy, trade and of the economies of emerging countries" has affected Argentina since it is not "free from the evolution of growth rates in Brazil, Europe and China", which are the country's main trade partners together with the US.
However despite Kicillof's optimism, the IMF reiterated that Argentina will continue in recession this year and in 2015, with growing inflation, unemployment and lack of foreign currency.
Last week on arriving in Washington one of the first comments from Kicillof was that the IMF World Economic Outlook report on Argentina "was overly pessimistic" and insisted on a prediction of 0.5% growth by the end of 2014, compared to a retraction of 1.7% this year and another 1.5% in 2015, from the IMF.
"The government's projection in 2014 for 0.5% growth are closer to reality than the negative figure of 1.7%", said the minister. Kicillof did recognize that "right now we face a deceleration in growth, principally due to a contraction in activity from our principal commercial partners."
"However, taking into account the growth rates in GDP for the first two quarters of the year (0.3 and 0%) a projection of minus 1.7% could only be validated with two quarters of contraction greater than 3%," he pointed out.
Kicillof highlighted that president Cristina Fernandez administration has been applying "expansive fiscal policies since the start of the year, that alongside salary increases lead us to think that the IMF projection for the rest of the year is overly pessimistic."
But Alejandro Werner head of the IMF for Latin America disputed Kicillof and fully ratified the recession forecast, 'which is fully supported by stats', and regretted the lack of dialogue with Argentina.
The IMF sees "growing uncertainty, high inflation, and serious limitations to imports and to the access to hard currency to support foreign trade, which will further complicate things in the future", added Werner.
"We could be wrong in one or two decimals, but that is contemplated in the error margin", said Werner who insisted that the IMF deeply regrets the lack of dialogue with Argentina, as "we have with other countries".
Meanwhile media reports from Argentina seem to support IMF's predictions and counter Kicillof's statements. In effect Argentine importers are waiting for the government to supply at least 5.2bn dollars to pay for overseas sales to keep local industries running.
Likewise maritime agencies have confirmed to the Buenos Aires media that several vessels loaded with natural gas are waiting to unload but have been limited mainly by two reasons: each shipment is equivalent to millions of dollars, and the money does not appear; secondly the drop in domestic demand for gas.
Apparently a mild winter but also the hike in home gas rates has seemed demand plunge.
Finally and taking into account the questioned reliability of Argentine stats, the Labor minister Carlos Tomada acknowledged the unemployment rate rose slightly this year, in comparison with the same period of 2013.
During an interview with a local newspaper, Tomada stated that "up to this day, unemployment rate is found between 6.5 and 7.5%. Did the unemployment level go up? Yes it did. 0.3 percent in one year," he said.