Madrid's attitude towards Gibraltar could thwart Spain's seat at Security Council
Tuesday, October 14th 2014 - 16:25 UTC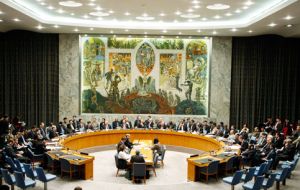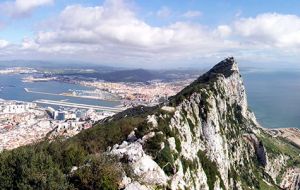 Spain's separate battles to both become a temporary member of the United Nations Security Council and to also force Britain into bilateral negotiations over Gibraltar appear to be on a collision course, according to a report in the Wall Street Journal.
The US newspaper alleges Spain is threatening to veto the British Government's attempt to remain part of a host of European Union police and criminal justice agreements whilst exercising certain opt-outs from EU obligations. The article, based on comments from four unnamed diplomats, attributes Spain stance to the on-going row over Gibraltar.
This coming weekend (October 18) the Security Council, in which UK's permanent membership affords it a veto, will decide which two of Turkey, New Zealand or Spain are admitted at a time when terrorism and North Africa in particular are in the spotlight.
Last week, as Gibraltar and Britain sang in tandem against Spain's angry allegations that the UK is in breach of UN resolutions over the Rock, Spain's No2 man at the Foreign Ministry, Secretary of State for Europe, Gonzalo de Benito, was yards from the UN headquarters working in the Spanish UN mission on the final moves to secure support from third countries for the Security Council application.
Spain's new King Felipe last month personally addressed the UN General Assembly calling for a place on the Council whilst British diplomats have been quietly voicing concern at Spain's pledge to use every institution it belongs to or can influence to further its Gibraltar claim.
According to the Wall Street Journal's article, datelined from Brussels, diplomats have said that Spain's veto could endanger some information-sharing on terrorism and other security threats as well as British cooperation in fighting crime across Europe. Among the issues is UK membership in the European Arrest Warrant, which allows warrants in one country to be carried out in other member states, and in Europol, the EU's law enforcement agency that tracks criminal activities across the bloc, says the Journal.
It added: "Spain's veto would also prevent the U.K. from being part of the SIS II mechanism, a law enforcement, immigration and border control system conceived as a tool to fight terrorism. The mechanism could help track foreign fighters returning from Iraq and Syria—an issue that has shot to the top of the security agenda with the rise of the Sunni extremist group Islamic State."
Whilst David Cameron's government is said to consider opting back into some of the EU law enforcement measures as critical to security and law and order, Spain refuses to move although it has not openly admitted that its Gibraltar policy is the stumbling block.
Britain's UN appearance before the UN Decolonization Fourth Committee last Wednesday has made clear it regards matters that are Gibraltar's under the 2006 Constitution to be a matter for the Rock's government, including at talks on co-operation with Spain. But the UK has also been raising its unhappiness over Spain's Gibraltar offensive with other allies in a move regarded as a response to Spain's hard drive.
"EU governments as well as the Commission have now agreed that the U.K. should be allowed to come back into these EU police and criminal justice laws, but Spain seems to be blocking a deal for no good reason other than its dispute with the UK about Gibraltar," one EU diplomat is quoted as telling the Journal.
The UK reportedly raised the issue last Thursday at a ministerial meeting in Luxembourg on justice and home affairs ministers. Five member states urged a compromise which would not harm security cooperation across the bloc, said the Journal attributing this to two people familiar with discussions.
The Journal reports that one of the diplomats said member states may think twice about Spain's position in the UN Security Council "if it allows bilateral disputes to disrupt crucial international cooperation on fighting terrorism."