Pope Francis shakes Vatican policy with new attitude towards gays
Tuesday, October 14th 2014 - 05:53 UTC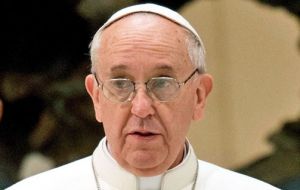 The Vatican has taken strides in announcing a new change in views towards homosexuals, which according to a Vatican document drafted after a week-long discussion of 200 bishops on family issues, states that homosexuals have "gifts and qualities to offer."
"Homosexuals have gifts and qualities to offer the Christian community: are we capable of welcoming these people, guaranteeing to them a further space in our communities? Often they wish to encounter a Church that offers them a welcoming home," said the document. "Are our communities capable of proving that, accepting and valuing their sexual orientation, without compromising Catholic doctrine on the family and matrimony?"
That said, the Catholic Church isn't giving its wholesome blessing to homosexuals, but instead, is promoting discourse within the Church to find "a fraternal space" for them without straying from the Catholic doctrine. But this step is a significant one, considering that it is suggesting that the Church is softening on its stance against homosexuality.
"For the LGBT Catholics in the United States and around the world, this new document is a light in the darkness — a dramatic new tone from a church hierarchy that has long denied the very existence of committed and loving gay and lesbian partnerships," said Chad Griffin, president of Human Rights Campaign, the biggest LGBT rights organization in the U.S.
The Argentine pontiff has previously vocalized his more compassionate views towards the LGBT community.
"If someone is gay and he searches for the Lord and has good will, who am I to judge?" said Pope Francis in a news conference aboard the papal plane while traveling back to Rome for World Youth Day. "There's a lot of talk about the gay lobby, but I've never seen it on the Vatican ID card! When I meet a gay person, I have to distinguish between their being gay and being part of a lobby. If they accept the Lord and have goodwill, who am I to judge them? They shouldn't be marginalized. The tendency (to homosexuality) is not the problem ... they're our brothers."
"A person once asked me, in a provocative manner, if I approved of homosexuality," said Pope Francis to Jesuit priest Fr. Antonio Spadaro, who conducted the interview for La Civilta Cattolica. "I replied with another question: 'Tell me: when God looks at a gay person, does he endorse the existence of this person with love, or reject and condemn this person?' We must always consider the person." He also expanded on the role of women in the interview. "The feminine genius is needed wherever we make important decisions. The challenge today is this: to think about the specific place of women also in those places where the authority of the church is exercised."