Oil prices hit new lows with prospects of further slide; excess supply, weak demand
Wednesday, October 15th 2014 - 08:16 UTC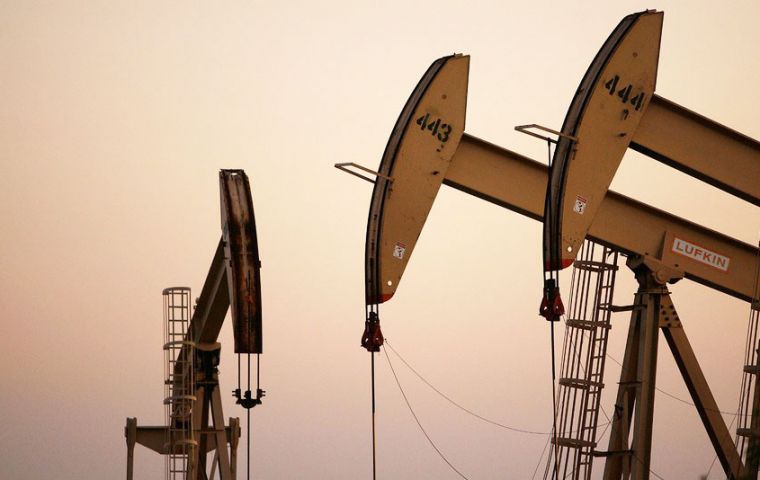 Global oil prices have fallen further after the International Energy Agency (IEA) reported higher output and cut its forecast for demand growth. Brent crude fell 2.72 to 86.17 dollars a barrel before seeing a slight recovery, while US crude dropped 1.75 to 83.99.

The price of Brent has fallen by 20% since the summer on concerns of oversupply, as output increases and demand wanes. "Recent price drops appear both supply and demand driven," the IEA said.

"Further oil price drops would likely be needed for supply to take a hit -or for demand growth to get a lift."

So far, the Organization of Petroleum Exporting Countries (Opec), which produces about 40% of the world's crude oil, has shown no signs of reducing supply. However cash strapped Venezuela has asked for an emergency meeting of Opec to address the falling prices.

In its monthly oil market report, the IEA said Opec production hit a 13-month high in September.

It also forecast that global oil demand would rise by about 700,000 barrels a day on average this year, 200,000 barrels a day lower than its previous forecast. Oil is around 88 dollars a barrel from above 115 in June, a 25% drop resulting from a boom in U.S. shale oil production, slow global growth and a strong dollar.

But it added that those low prices would remain under pressure because of supply levels: Global oil supply rose by almost 910,000 bpd in September to 93.8 million bpd, almost 2.8 million bpd higher than the previous year.

In a rare IEA comment on Opec's strategy, its chief analyst Antoine Halff said the producer group may no longer be willing or able to adjust production as the market has been transformed by the U.S. shale oil revolution. In effect some Opec's members whose budgets depend on oil might prefer to keep selling at lower prices than lose their part of the market.

"We should not expect OPEC to necessarily play its traditional role of swing producer" Halff said on Tuesday, adding that other players with higher production costs might cut instead, such as those extracting from deepwater or oil sands.

Opec meets on Nov. 27 to discuss output policies and whether to act to stem the price slide.

Lower forecasts for demand for oil reflect growing concerns about the strength of the global economy. Last week, the International Monetary Fund cut its forecast for global economic growth for this year and next, warning that the recovery was "weak and uneven".