FIFA will not make public full report on alleged corruption in 2018/22 World Cup bidding
Saturday, October 18th 2014 - 11:01 UTC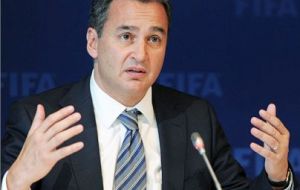 FIFA's ethics judge says full publication of Michael Garcia's report on alleged corruption in the 2018/2022 World Cup bidding race is not legally possible and would breach confidentiality agreements with interviewees.
Amid widespread demands for the 430-page bidding report to be made public – from six FIFA ExCo members and US lawyer Garcia himself – Hans-Joachim Eckert responded Friday in a Q&A posted on FIFA's website.
"Publishing the report in full would actually put the FIFA Ethics Committee and FIFA itself in a very difficult situation legally," said Eckert, who was handed the report in September.
"What is more, we have to respect the personal rights of the people mentioned in the report [75 interviewees], which in the case of full publication of the report would in all likelihood not be possible."
Noting that the report of the investigation into the bidding process for the awarding of the 2018 and 2022 FIFA World Cups "comprises hundreds of pages as well as numerous annexes", he added: "Carefully working through all this material takes time. As things currently stand, I expect the statement to be ready by mid-November at the latest."
"The statement will contain an overview of the investigation report, a summary of the main findings, conclusions and recommendations of the report, as well as a brief evaluation of the same."
Garcia earlier this week criticized FIFA for a lack of transparency and weak leadership for refusing to publish the report in full.
His comments only fuelled speculation that he has had a big falling-out with Eckert over the publication of the report.
In the FIFA Q&A, Eckert denies this is the case.
"No, that is not the case. Michael Garcia has never said that the report should be 100 per cent published," the German said.
"He merely said that the 'appropriate' publication of his report should be authorized. The deputy chairman of the adjudicatory chamber and I now have the task of drawing up this appropriate form for publication.
"Part of my current examination involves deciding what form this appropriate publication should take, whether this means issuing a statement regarding the investigation report or whether certain parts of the investigation report will be published while maintaining anonymity, or indeed a combination of these possibilities.
Eckert added: "This decision is exclusively a matter for the adjudicatory chamber – neither the investigatory chamber nor the FIFA Executive Committee can decide. The main requirement is that personal rights must not be damaged."