Argentina grants first refugee status to Russian gay, victim of President Putin's non tolerance policies
Tuesday, October 21st 2014 - 06:57 UTC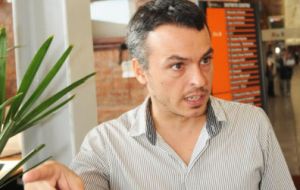 A young 28 year old became the first Russian gay to be given refugee status by Argentina, because of discrimination and violence at his home country. The positive reply to the year-long request was sponsored by Argentina's Federation of lesbians, gays, bisexuals and trans, FALGBT.
The refugee status was extended by Argentina's Refugee Committee, Conare, made up of representatives from the Ministries of Interior; Foreign Affairs; Justice, Security and Human Rights; Social Development; the institute against Discrimination, xenophobia and racism institute, besides a delegate from the UN High Commissioner for Refugees, although he did not have a vote.
The Conare report reveals the violence and hostility suffered by the young Russian and the overall serious situation faced by the LGBT in Russia and the lack of protection from the Russian state. The decision was based on data provided by the UN, and different global organizations on sexual diversity and human rights.
However the determining factor was that "Russian security forces 'tolerate' such violence" and that the police does not register reports on violence or threats to LGBT or any form of protection. President Vladimir Putin has also come out strongly against LGBT, virtually blessing law enforcement officers attitude.
"It is with great satisfaction and joy that Argentina, coherent in its policies to promote the rights of LGBTs both domestically and internationally has decided to grant 'Gene' the refugee status which allows him to continue his life in a country which he chose, precisely because society accepts diversity and because even when there are some sectors that insist with discrimination and promoting hate, the State is present to protect and ensure all citizens equally enjoy their rights", said FALGBT president Esteban Paulon.
"Gene is very happy and relieved with the decision and is planning to request Argentine citizenship when the two year period or residence has been complied. The difference between living in a society that condemns and persecutes sexual diversity plus a State which is an accomplice, and living in a country each day more egalitarian with a State that protects the rights of all its citizens, is decisive at the moment of making crucial life plans", added Paulon.
"We hope this first case enables to solve other similar LGBT situations from Russia that are waiting for a similar refugee status. Only recently we met with Conare officials to report on what is happening in Russia and other countries, so we really celebrate that Argentina is complying with an international right, with a wide and favorable criteria in support of the human rights of every person. We will continue to work to protect all those who request it and to promote equality and respect for human rights in all the world.