Argentina makes formal complaint to BBC about Jeremy Clarkson
Tuesday, October 21st 2014 - 21:57 UTC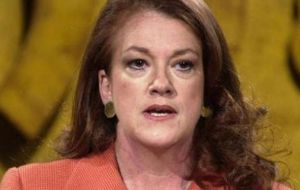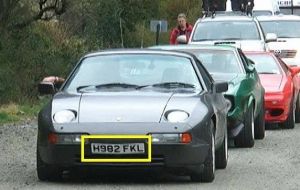 Argentine Ambassador to the UK, Alicia Castro, made a formal complaint to the BBC regarding Jeremy Clarkson's provocative behaviour and offensive remarks towards the Government and the Argentine people, following Top Gear's recent filming in Argentina, calling for the BBC to make a public apology.
According to a release from the embassy, Ambassador Castro was received by the BBC's TV Director, Danny Cohen, at the BBC's New Broadcasting House in Portland Place Monday afternoon
Clarkson arrived in Tierra del Fuego, just 400 miles from the Malvinas Islands, flaunting a car with the number plates "H982 FKL", evoking the year and the initials of the territory in which the war took place. Subsequently, he claimed it was a "mere coincidence" with no intention of provoking a reaction.
Referring to this episode, Clarkson made serious accusations against the Government of Tierra del Fuego in various media outlets.
"Government officials step in saying we were no longer welcome in the city […] plainly they had given us permission to visit simply so they could make political capital from ejecting us when we arrived" (The Sunday Times, October 5)
"Tierra del Fuego is not listed as a problem for visitors by the Foreign and Commonwealth Office, but there is no question in my mind that we walked into a trap" (The Sunday Times, October 5)
"'Look what we've done', they will say at the next elections. Sent the English packing." (The Sunday Times, October 5)
"This is a mafia state" (The Sunday Times, October 5)
"Jeremy Clarkson: Top Gear ambush was set up by Argentina's government" (Daily Telegraph, October 5)
"Jeremy Clarkson 'hid under his bed' to avoid angry Argentinian mob who attacked his hotel after number plate 'coincidence'" (The Independent, October 6)
Without acknowledging the safety provided by the Government of Tierra Del Fuego, Clarkson instead suggested that Argentine authorities had even requested Chilean border officials not to let Top Gear's crew into that country.
"Chile con carnage" (The Sun, October 7)"Argentina demanded Chile shut border to fleeing Top Gear crew". (Daily Express, October 7)

"Argentina 'told Chilean officials to close route into the country to stop Top Gear crew escaping - but they refused', claims Jeremy Clarkson" (Daily Mail, October 7)

"Top Gear: Argentinian officials tried to stop Jeremy Clarkson and crew from leaving country" (Metro, October 7)
Furthermore, the Argentine Ambassador deeply regretted Jeremy Clarkson's entirely false accusations of alleged resentment against British citizens in Argentina.
Castro recalled that our country is home to more than 250,000 British descendants, the largest such community in Latin America, including 70,000 of Welsh origin, whose settlement in Patagonia will mark its 150th anniversary in 2015.
Ambassador Castro noted the excellent degree of cooperation various ongoing BBC projects continue to enjoy in Argentina, stressing her desire for this to remain the case.
Finally, the Ambassador showed Mr Cohen a great number of letters of support received by many British citizens, including MPs, journalists and other personalities, condemning Clarkson's provocative behaviour.
The release concludes saying the Embassy of Argentina awaits a proper response from the BBC.