Uruguay faces the most competitive election since the return of democracy
Wednesday, October 22nd 2014 - 10:02 UTC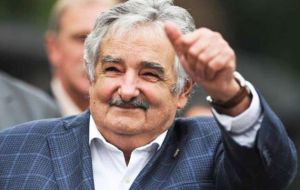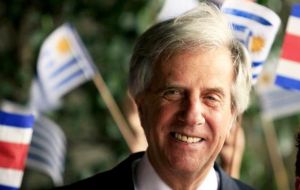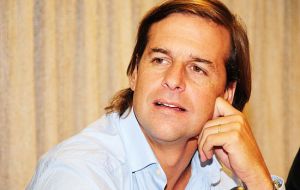 Uruguay is less than four days away from Sunday 26 October general election with opinion polls unable to forecast a clear winner, and a strong possibility that the left wing coalition could lose its legislative majority enjoyed in the last ten years and even the Executive.

All this despite the fact that president Jose Mujica, who can't be re-elected but enjoys strong popularity both at home and overseas, has been openly campaigning for the candidates of the ruling coalition.

The latest polls indicate that the incumbent ticket of former president Tabare Vazquez (74) and Raul Sendic (54) are leading in the range of 40% to 42% of vote intention, but a formidable and unexpected young contender has emerged, Luis Lacalle Pou, 41, and his conservative National party.

Legislator and lawyer Lacalle Pou has a vote intention above 32% and has made the Sunday event, unthinkable only six months ago, in the most competitive election since democracy returned to Uruguay in 1985.

"Uruguay's financial crisis of 2002 left Uruguay divided in a centre left half with a floor of 40% of the electorate and another 40% centre right. In 2004 the left wing Broad Front coalition won the national election because the electorate basically blamed the so called traditional parties for the banking crisis (an over spill from Argentina)" argues political scientist Daniel Chasquetti.

And five years later, in 2009 president Vazquez who was stepping down with an unprecedented support and acknowledgement, helped Mujica win the election since he was considered 'continuity but also with a touch of novelty'.

But ten years later and despite the fact that the Broad Front managed a decade of economic growth, a drop in unemployment to 6% and a reduction in poverty indexes, "an estimated 5% of the electorate is moving to more radical or more moderate minority groups, making the election more competitive".

Since in Uruguay consecutive re-election is banned and none of the candidates is expected to obtain more than 50% of the ballots next Sunday, in that event a runoff is scheduled for November 30.

In this scenario a renewed National party with candidate Lacalle Pou and with the support from the Colorado party, expected to collect 15/17% of votes, could very well, mathematically, defeat Vazquez (45/47% to 43/45%).

"In the last 25 years of opinion polls in Uruguay, no leader of a traditional party (National and Colorado) managed the image support achieved by Lacalle Pou in this election" admits Ignacio Zuasnabar head of Mori's Public Opinion desk pollster.

"We are looking at an extraordinary phenomenon, out of the blue and with no similar situation in recent Uruguayan political experience", he admits.

The 41 year old lawmaker who first was elected to parliament in 2000 is the son of former president Luis Alberto Lacalle (1990/1995) and against all odds in less than six months became the formidable challenge of Vazquez and the confident Broad Frong.

With his motto "think and act positive" he has avoided confrontation and surrounded by young faces and political experts has revolutionized the campaign.

According to Zuasnabar the ruling coalition was slow in understanding the changes demanded by the Uruguayan society in the last ten years while Lacalle Pou "very wisely never pledged to dismount what the Broad Front had built, but rather tried to make it its own".

Likewise political scientist Rafael Piñeiro argues that Lacalle Pou is "a blend of a well known name, he didn't have to impose the trademark, with the logics of renovation".

In the event of the run-off the Colorado party candidate Pedro Bordaberry should support Lacalle Pou to force the ousting of the Broad Front.

"It is a minimum percentage, the hard core unsatisfied, rebellious or who want changes that will be deciding this election" anticipates Luis Eduardo Gonzalez, head of pollster Cifra.