Dilma numerically ahead of Neves, in the fourth poll in three days
Thursday, October 23rd 2014 - 06:31 UTC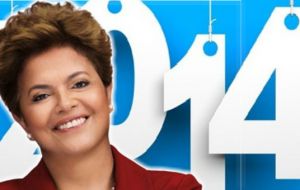 Incumbent President Dilma Rousseff pulled ahead again in a new poll ahead of Brazil's presidential election and she appears to be the favorite to win Sunday's runoff although the vote is still too close to call.
The Datafolha poll, released on Wednesday, was the fourth in three days to show that Rousseff is numerically in front of her rival Aecio Neves, the financial markets' favorite who has promised business-friendly policies to revive a sluggish economy.
Brazil's stocks and currency sold off for a second straight session yesterday after polls indicated that Neves is losing momentum in a race that he appeared to be leading last week.
Despite pessimism on financial markets, Brazilians surveyed by Datafolha were more optimistic about the future of their economy, which could be helping Rousseff, the polling firm said.
In the new survey, Rousseff's share of voter support has risen to 47%, from 46% in the previous Datafolha poll published on Monday. Support for Neves was unchanged at 43%.
While Rousseff has widened her numerical lead to four percentage points, the difference between them is still within the poll's margin of error of plus or minus 2 percentage points.
Excluding undecided voters, spoiled and blank survey responses, Rousseff has 52% against 48% for Neves, the poll showed, the same result as in Monday's poll.
Rousseff has gained ground despite a barrage of criticism from Neves who accuses her of mismanaging the economy and being responsible for a corruption scandal at Brazil's largest company, state-run oil producer Petrobras.
Neves dismissed his declining numbers saying the polls were unreliable because they got it wrong in first-round voting on October 5, when surveys underestimated his support and overestimated Rousseff's by a margin of 10 points.
Rousseff is vowing to expand social programs that reduced poverty and inequality during 12 years of Workers' Party rule.
Neves has promised to jumpstart an economy that slipped into recession in the first half of this year. He says he would restore confidence in Brazil by taming inflation, curbing government expenditure and ending heavy-handed policies that have stifled investment.
Rousseff has said that Neves' policies will lead to unemployment and the rolling back of social programs, a warning that appears to have convinced many voters to give her another four years.