Garcia-Margallo 'absolutely convinced' UK voted for Spain to join UN Security Council
Thursday, October 23rd 2014 - 04:38 UTC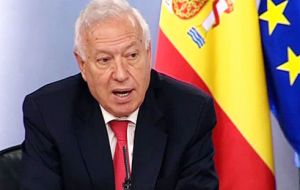 Spain's Minister for Foreign Affairs, Jose Manuel Garcia-Margallo, said he was "absolutely convinced" that the British Government backed Spain's bid to join the UN Security Council as a non-permanent member.
Spain beat off Turkey last week to join New Zealand in the two available seats reserved for a voting bloc called the Western European and Others Group, which includes the United States.
Spain will now occupy the seat for two years, working alongside permanent members including the UK to address some of the most significant challenges currently facing the global community.
There had been some speculation that the UK might vote against Spain because of Madrid's stance toward Gibraltar, but the Spanish Foreign Minister suggested otherwise.
"The permanent members have a very strict policy not to state what their vote has been," Garcia-Margallo said in an interview with the Spanish newspaper ABC.
"But if I understand anything about body language, I am absolutely convinced that the United Kingdom voted for us."
He added that this would be "…perfectly logical, [the UK] being an ally and partner both within the EU and the Atlantic Alliance, and a country with which we share values, principles and, in many cases, interests."
Spain secured its seat on the UN Security Council after an intense lobbying campaign and in the interview, Garcia-Margallo reflected on the significance of the achievement.
"To be in the Security Council is to be at the heart of the organization that takes the most important decisions in the United Nations," he said.
"At an international juncture such as the current one, in which there are a number of open conflicts such as had not been seen in a long time, being there gives us a more than considerable international presence."