Mujica says people who like money too much must be kicked out of politics
Thursday, October 23rd 2014 - 06:06 UTC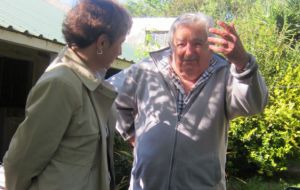 Uruguayan president Jose Mujica said that the people "who like money too much must be kicked out of politics" because they are a 'real danger' and can get confused with what is the prospect of "a good government", and make citizens non believers in the system.
Interviewed by CNN' Carmen Aristegui at his farm in the outskirts of Montevideo where he lives austerely, Mujica the former guerrilla said that the problem with the ostentation and the luxury surrounding people with political power is a betrayal of the foundational spirit of republicanism where "we are all equal and no one is better than anyone else".
"We must affirm the republican spirit and look at ourselves as equals. In this the Republic has derailed, and we get strange characters popping in. That is why those who like money too much, we have to kick them out, they are a real danger. This does not mean that politics has no interests, but these are non material, they are of another kind, they are moral" said the 79-year old former urban guerrilla.
Mujica said that the politician's job or rather what he should target is "love and acknowledgement from the people", and certainly not money. And in this way the Uruguayan president defined himself as 'rich' because as the Aymara indigenous people say: "poor are those who do not have a community".
"When I walk in the streets many people extend me their friendship and partnership. And in the other issue (material), I'm not poor, I'm sober, I travel in life light in luggage, so those things don't rob me of my freedom", pointed out Mujica who besides politics is a small scale intensive farmer with several tractors and seventy hectares of land where he grows flowers and legumes.
"Politics is the struggle for happiness, for all" and thus those who see politics from "a money point of view, even with good intentions" are limited to that only prospect.
"If the majority rules, you have to adopt the perspective of the majorities, not of the minorities or the elites. Otherwise people end disbelieving and turning their backs on politics. And when men and women don't have something to believe in, that is the worst circumstance. Because this little animal we all are, is a most utopia bug and needs to believe in something. And then they believe in nothing and only live for themselves, that is selfishness".
As a political leader and voted by the people, "I must respect them and live as most of my fellow citizens live, with austerity and soberness, otherwise it would be non respectful and distant from any moral preaching that makes to the essence of politics".
Mujica ended saying that it is still possible to believe in the utopia of building a better world, which we must build between all of us and cut the social differences and gaps.
"We were educated in the idea that this is a valley of tears and sacrifice to be able to reach paradise. No, nonsense, no valley of tears. This is a beautiful life which we must look after and in which we must struggle and toil to be as happy as possible, with all its contradictions. We don't have to waste it. Freedom means having time to live that which motivates us", he concluded.