Uruguay pollsters agree on a runoff and divided parliament, on Sunday' election
Thursday, October 23rd 2014 - 06:23 UTC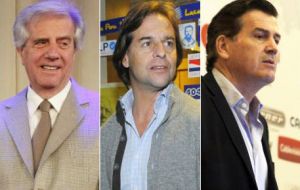 The last round of public opinion polls in anticipation of Uruguay's Sunday general election (Executive and legislative), released on Wednesday evening by the main television channels, shows that the next government will not enjoy a majority in congress and there will be a presidential runoff at the end of November.
On Sunday 26 October, 2.6 million Uruguayans are registered to vote, which is compulsory, and according to the opinion polls there will be a presidential runoff on 30 November between the incumbent candidate and former president Tabare Vazquez, 75, and opposition contender, Luis Lacalle Pou, 41, since this Sunday none of the two will manage 50% plus one of ballots.
Another very important anticipation is that the next government that will succeed President Jose Mujica on March first 2015 will not have the parliament majority enjoyed by the ruling Broad Front coalition in the last two five-year periods.
This will force the different parties to agree on a basic legislative agenda or even share cabinet posts and seats in government owned companies' boards, which in Uruguay dominate most basic services including power, communications, refining and fuel.
All pollsters also coincide that the November runoff result is too tight to call, because although mathematically the opposition is a few points ahead of the Broad Front, on Monday a new scenario opens.
In effect, how the new parliament is made up, and what are the chances or possibilities of alliances and equally important what happens in the Brazilian runoff, where the ruling left wing coalition of president Dilma Rousseff is also threatened, will be crucial for vote intention.
According to pollster Factum, the Broad Front coalition will garner 44% of ballots next Sunday; the National party of Lacalle Pou, 32% and the other opposition party, Colorado 15%. In a hypothetical second round, the score would be a mathematical 47% to 43%, but it does not take into account the still undecided, blank votes and besides Uruguayan voters are quite sophisticated and not all will follow their leaders as sheep.
Pollster Cifra gives the Broad Front a 42% vote intention; the National party, 31% and the Colorado party, 17%; the Independent party, 3%; the Popular Unity, 1% and the undecided 6%.
Here also in the runoff mathematically the opposition (31% plus 17%) would defeat the incumbent candidate, 42%, but there still is "much volatility".
Finally for Mori pollster, the Broad Front of Vazquez has 41% vote intention; the National party, 29%; the Colorado party, 13.5%; the Independents, 2.4%; undecided 9%, other parties 1.9% and blank and spoiled, 2.9%.
In this scenario the opposition could defeat the incumbent but the difference is in the several percentage points error margin, so no forecast of what can happen 30 November.