Another hedge fund, Dart container, after Argentine assets to cash defaulted bonds
Saturday, October 25th 2014 - 10:09 UTC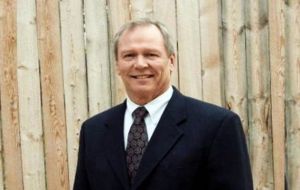 Billionaire Kenneth Dart's EM Ltd. is seeking to take advantage of a U.S. court ruling won by fellow billionaire hedge fund manager Paul Singer NML Capital, as he seeks payment on 835 million dollars in defaulted Argentine bonds.
Dart, 59, president of Dart Container Corp., has been trying to get Argentina to pay on bonds held by his hedge fund for more than a decade. In his latest complaint, assigned to U.S. District Judge Thomas Griesa in Manhattan, Dart's hedge fund seeks to bar Argentina from paying its performing debt before EM gets paid.
In 2013, Argentina's tax agency sent 50 government agents to the local unit of Mason, Michigan-based Dart Container, as part of an investigation into alleged tax evasion, and accused him of financing anti-government protests.
Argentina's president, Cristina Fernandez, has vowed to pay the so-called "vulture funds" that hold the country's defaulted debt in the same terms as the holders of 93% restructured bonds, and never the full face value of the documents.
Griesa ruled in 2012 that Argentina can't pay its restructured debt without also paying 1.5 billion to a group led by NML that holds defaulted bonds. That ruling triggered a new default July 30 when bondholders weren't paid.
"EM now seeks an injunction from this court that is the same as the injunction that was issued in NML v. Argentina," Dart's hedge fund said in its complaint filed last week.
Dart follows on a group of Italian bondholders who have made a similar request, since they never accepted the restructuring conditions offered by Argentina.
Argentina has said it can't pay the holdouts in full while also making payments on the restructured bonds. The country claims Griesa's attempts to force it to pay holdouts violate its rights as a sovereign nation.
In related news a Nevada judge, on request from Singer's NML fund, is investigating alleged 'irregular' business links between Argentine president Cristina Fernandez family and a casino and games tycoon in Argentina, Cristobal Lopez.
Allegedly next week there could be some light into the issue which involves a company registered under the name Val de Loire, in Nevada and probably belonging to a close associate of the Kirchner family. Singer's solicitors have requested 'confidentiality' regarding the release of the information, while the defendants argue Singer has no right to look into the company since it's all based on a fabrication by the Argentine media.
Singer and NML are pressing on with the investigation to expose Argentine corruption and/or put pressure on the government to sit and negotiate with the hedge funds. The request is based on the 'discovery' clause which enables to look for assets belonging to the demanded side. But the implementation of such a clause is expensive, tiresome almost exhausting.