Argentina's bonds dispute: Judge Griesa delays a week a Citigroup hearing
Saturday, October 25th 2014 - 10:02 UTC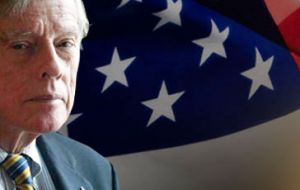 U.S. District Judge Thomas Griesa has delayed by a week a December hearing to consider whether Citigroup Inc should be allowed to process an interest payment by Argentina on bonds issued under its local laws following its 2002 default.
In a brief order Friday Griesa said the hearing, originally set for Dec. 2, will now take place Dec. 9.
An interest payment is due Dec. 31 by Argentina on U.S. dollar-denominated bonds issued under its local laws. Citigroup has said it faces regulatory and criminal sanctions by Argentina if it cannot process the country's payments.
Argentina defaulted in July after refusing to honor a court order to pay 1.33 billion plus interest to bondholders when it paid holders of bonds swapped during the country's 2005 and 2010 debt restructurings.
The bondholders were led by Elliott Management's NML Capital Ltd and Aurelius Capital Management.
The hedge funds had spurned Argentina's past restructurings, which resulted in exchanges for about 93% of the country's defaulted debt. Investors who accepted Argentina's terms were paid less than 30 cents on the dollar on average.
Griesa, who oversees the litigation, in July blocked Bank of New York Mellon Corp from processing a 539 million dollar interest payment on what the country says is over 28 billion in restructured debt. The order sent Argentina on a course to default after failing to reach a settlement with the holdouts.