Uruguay's Sunday election and the ruling coalition furious internal dispute
Saturday, October 25th 2014 - 10:25 UTC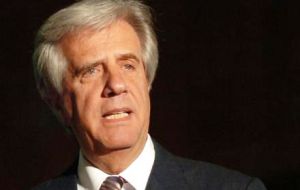 On Sunday 2.6 million Uruguayan registered voters will decide who will be their next president plus 30 Senators and 99 Lower House members. If no presidential candidate makes 50% of valid ballots plus one, the most probable result a run off takes place at the end of November between the two most voted candidates.
At stake in this election are ten years of the ruling Broad Front coalition's two governments, which have enjoyed a most favorable global scenario with soaring prices for commodities, rock bottom interest rates and an influx of foreign investment looking for better yields that in developed countries.
In the decade the Broad Front passed much legislation in support of programs to combat poverty, extend rights to minority groups, increase salaries and have poured millions and millions of funds, as never before in education, healthcare, combating crime and insecurity.
However despite these advances both under presidents Tabare Vazquez (who is running for a second mandate on Sunday) and the current leader Jose Mujica, the results of those huge funds invested are yet to be seen and have become the controversial issues of the campaign. To which must be added a referendum on lowering the criminal age responsibility from 18 to 16, because minors and drugs have turned into a national scare.
In the more orthodox measurements, the two governments have made paltry investments in infrastructure, the ill-maintained roads system is overburdened by ten years of a growing economy and expanding foreign trade, ports capacity is proving insufficient or without the needed dredging of access channels because of ongoing conflicts with neighboring Argentina, and mismanagement of government's corporations.
This is the case of the former flag air carrier, Pluna, which was shutdown two years ago and debts keep mounting after an erred association with Argentine entrepreneurs. Something similar can be said of the oil refining and cement government owned corporation Ancap, which has the fuels monopoly and has accumulated in a couple of years a deficit estimated in a third of its revenues, and without having been able to present a budget approved by the government's auditing office. Contrary to Argentina and Brazil fuel prices in Uruguay are regularly adjusted and are probably the dearest in South America.
And in more mundane indicators, even when employment has been at record levels and the economy expanding at an average 4% in the last ten years, the budget deficit stands at over 3.3% of GDP and inflation remains the highest in the continent behind Venezuela and Argentina, just on the cliff of double digit, which regularly undergoes cosmetics at the end of the fiscal year by playing with public utilities fares, all government monopolies or administered.
The other big issue for the Broad Front is not only having Vazquez president again for the next five years (he will be 76 if elected and takes office next March first), but ensuring another five years of clear majority in the legislative. However this time this seems exposed to a great challenge because there is a feeling among the electorate that it has been too much power for the ruling coalition, and a greater role for Parliament is needed among other things because of the overwhelming power displayed by organized labor that has promised it will fight in the streets any attempt to roll back any of the many conquests of the last ten years.
But unions have also taken over the education and health care system, which despite flooded with funds are showing dismal academic results and a chaotic medical service, with a couple of serious corruption scandals surfacing.
It can be anticipated then, and this is supported by all public opinion polls that the next government be it of candidate Vazquez or his most probable runner up, Luis Lacalle Pou, (who happens to be only 41), will have to deal with a coalition or some kind of understanding at legislative level to have bills passed.
Finally in the political front, besides the inter-party dispute for the presidency and the legislative benches, there is an ongoing furious struggle inside the Broad Front, which is really a political movement, a catch all coalition which extends from former guerrillas (such as President Mujica) and Trotskyites to Socialists and Christian Democrats.
Vazquez thrives on his prestige and declares himself Socialist but broke off over the approval of an abortion bill. He has the capacity of catching centre and independent votes and thus the coalition needs him because they don't have a similar charismatic figure despite his age and physical condition.
So in a divided parliament the control of the Broad Front becomes crucial for negotiations and this is where Mujica and his People's Popular Movement, MPP, come in. The current president has been the most efficient campaigner despite constitutional limitations, but this has ensured that his grouping is several percentage points ahead any of the other competing groups. This has been further strengthened by the fact that since there is no immediate presidential reelection in Uruguay he is running for a Senate bench.
This internal dispute has surfaced in several incidents. Mujica has been the great sponsor of legalizing marihuana as a way to combat drugs, and this includes a planters' register and selling the product in pharmacies and chemist shops.
Vazquez during the campaign said that pretending to sell cannabis in pharmacies was 'madness, outrageous'. Mujica replied that comrade Vazquez "has not read the law".
Likewise Vazquez promised that in his second government there would be an only economic team. This is a reminder that under Mujica, Vice-president Daniel Astori an orthodox economist and his team tried, successfully to a certain point, to contain budget expenditure, while Mujica's men tried to increase social spending. This led to several clashes and an understanding with Astori who kept to his policy and the Mujica's men becoming advisors to the president and taking over the Development Corporation.
"In my government there has been an only economic team", politely insisted Mujica.
And what happens if the coalition does not manage a majority in congress? Well First Lady and Senator Lucia Topolansky was very direct: "it does not matter we can manage because we'll get the people out in the streets".
Vazquez vice president hopeful Raul Sendic, an insipid character had to come out and argue that in no way would the 'street' be politically more important than the elected legislative. "We must say we disagree with the Senator Lucia".