Reelected Dilma and Cristina Fernandez will discuss "strengthening Mercosur"
Tuesday, October 28th 2014 - 06:18 UTC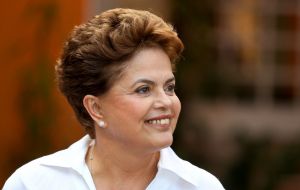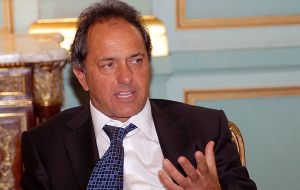 The reelected President of Brazil Dilma Rousseff called President Cristina Fernandez on Monday to thank her Argentine counterpart for her message of congratulations following victory at the polls, as well as organizing a bilateral meeting in Australia during the G20 summit.
Rousseff and CFK will convene in Brisbane at the upcoming summit scheduled for November 15 and 16, according to presidential spokesman Alfredo Scoccimarro. The official revealed that the two heads of state will discuss "regional issues," including "the strengthening of Mercosur".
Cristina Fernandez took to Twitter shortly after the results of Sunday's run-off were announced confirming Rousseff's second term, paying tribute to her Brazilian counterpart.
"Dilma's victory one more step towards the consolidation of the Great Homeland," she expressed on the social media page, alongside a photo of the two presidents together.
Scoccimarro added that during their telephone conversation both CFK and Rousseff mentioned the need to continue with "the strategic alliance in the region."
In related news Daniel Scioli, Governor of Buenos Aires province and 2015 presidential hopeful paid tribute to Brazil president Dilma Rousseff and Tabare Vazquez of Uruguay, stating that the pair's election wins showed that the opposition were wrong to demand change in regional politics.
Rousseff was re-elected on Sunday and Vazquez faces a second round of voting at the end of November, as hot favorite for president after taking 47% of the ballots in Uruguay.
"'Change, change, change,' is repeated in parrot fashion all the time in Brazil, in Uruguay and here, now look at the people's response. What change are they talking about? The real change is the one we have advanced, to continue improving every day," Scioli underlined.
"Change is the decisions that our president Cristina Fernández makes on a daily basis, giving more power and more protection to our workers and the sectors that need the state more and more."
"Argentines must open our eyes so that those who believe in throwing around the word change like a magic wand do not underestimate us. Here you have the people's answer. We want development, we want to take care of our achievements and not return to the past, that explains Dilma and Tabare's triumphs," he underlined during a rally.