Chile's oil and gas corporation ENAP raised 600m dollars in 10-year bonds
Wednesday, October 29th 2014 - 05:58 UTC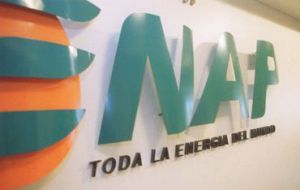 Chile's oil and gas government company, Empresa Nacional de Petroleo (ENAP) returned to the US dollar market for the first time in almost three years, becoming the latest Chilean issuer to take advantage of a strong bid for high-quality Latin American corporates.
State-controlled ENAP rated Baa3/BBB-/A, raised 600 million dollars through the sale of a new 10-year bond, which priced at a small concession over its own curve after attracting orders worth around 1.7bn.
So far investors are showing no apparent sign of supply fatigue after absorbing 1.6bn of Chilean corporate paper over the last week, including deals from utility E-CL (BBB), chemicals company SQM (Baa1/BBB) and retailer Falabella (BBB/BBB+).
After testing investor appetite with initial price thoughts of 230bp area over US Treasuries, ENAP priced the new notes at a final spread of 220bp over, offering a slight premium over Falabella and SQM, which printed at 215bp over last week.
At that level, the borrower was seen offering a new issue concession of 5bp at most over its own curve, where the 4.75% 2021 notes were spotted trading with G-spreads of between 200bp and 205bp before the announcement.
After accounting for 10bp to 15bp of extra premium for the difference in maturity between the two notes, fair value for the new issue was seen at around 215bp, said bankers.
Moody's, which rated the deal Baa3, highlighted a number of risks including the volatility of refining margins and leverage margins that stood at 5.5x at the end of the second quarter. The company's high leverage has long given some investors pause, but it remains substantially lower than the 7x seen in 2012.
The buy-side and rating agencies also find comfort in the Chilean government's high willingness to support what is a strategic asset for the country. The company, which is wholly owned by the Chilean government, satisfies around 63% of Chile's demand for refined products and is also the only oil refiner in the country.
ENAP also has oil and gas producing wells in the extreme south region of Magallanes.
Proceeds from the sale, which was led by HSBC and JP Morgan, will be used to repay outstanding debt, which include 597m of bank debt coming due in 2015. The new notes, which carry a coupon of 4.375%, priced at a reoffer price of 99.328 to yield 4.459%.
ENAP was last in the international bond markets in November, when it raised SFr215m through a five-year issue.