Sweden's Saab wins Brazilian 5.4bn dollars contract to sell 36 fighter jets
Wednesday, October 29th 2014 - 07:16 UTC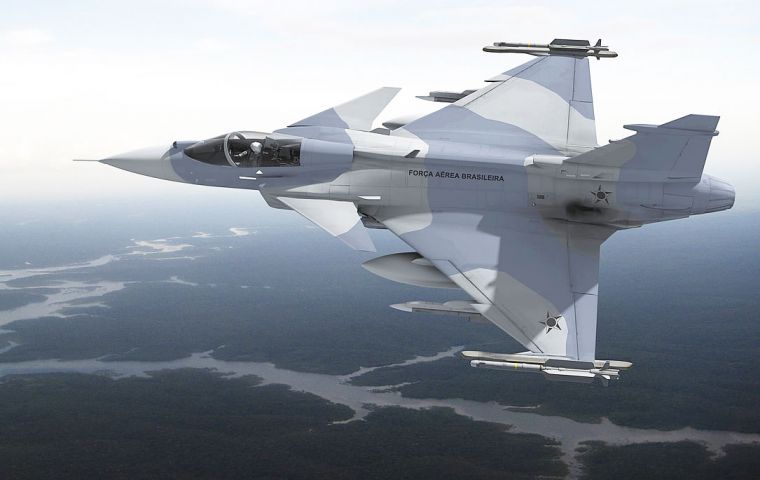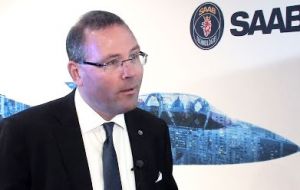 Swedish aerospace and defence firm Saab has finalised a 5.4 billion dollars order to sell 36 fighter jets to Brazil, one of the most valuable defence contracts up for grabs in an emerging market. Saab said in a statement the total order value for the NG Gripen jets, to be delivered between 2019 and 2024, was around 39.3 billion Swedish crowns (5.4 billion).
The company in December 2013 won a long bidding war for the delivery of new fighter jets for the Brazilian air force against France's Dassault Aviation and Chicago-based Boeing.
"Since then all parties have negotiated to finalize a contract. Today's announcement marks the successful conclusion of that process," Saab said.
Saab said the deal was still pending export control-related authorizations and other conditions that it expected to be fulfilled in the first half of 2015.
Saab and Brazil's Ministry of Defence's Aeronautics Command (COMAER) have also signed an Industrial Co-operation contract to deliver substantial technology transfer from Saab to Brazilian industry, to be performed over approximately ten years.
On 18 December 2013 Brazil selected the Gripen NG to be its next-generation fighter aircraft, through the F-X2 evaluation programme. The programme comprises 28 single-seat and eight two-seat Gripen NG.
"We are proud to stand side-by-side with Brazil in this important program. There is already a long and successful history of industrial co-operation between our two countries, and this historic agreement takes that partnership to a new level", said Marcus Wallenberg, Chairman of Saab's Board of Directors.
The contract with COMAER for Gripen NG and the associated Industrial Co-operation contract will come into effect once certain conditions have been fulfilled. These include, among others, the necessary export control-related authorisations. All of these conditions are expected to be fulfilled during the first half of 2015. Gripen NG deliveries to the Brazilian Air Force will be undertaken from 2019 to 2024.
"The contract with Brazil validates Gripen as the most capable and modern fighter system on the market. It solidifies Saab's position as a world-leading fighter aircraft producer and strengthens our platform for growth," says Håkan Buskhe, President and CEO of Saab.
Brazil joins Sweden in becoming the launch customer for the next-generation Gripen. Gripen aircraft are currently in operational service with the Swedish, Czech, Hungarian, South African and Royal Thai Air Forces, and also with the UK Empire Test Pilots' School (ETPS).-