Top designer Tom Dixon launches the British Month 2014 in Chile
Thursday, October 30th 2014 - 12:30 UTC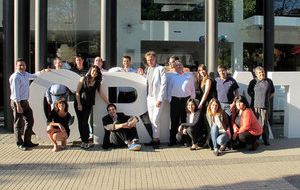 One of the UK's best-known designers, Tom Dixon, presented his most recent collection – entitled 'Club' - at an event held this last week at the Interdesign Store in Santiago, marking the launch of the British Month 2014 in Chile.
Named Designer of 2014 by Maison & Object (one of the most prestigious awards offered by the international design industry), Tom visited Chile as part of a tour taking him to six Latin American cities: Mexico City, Lima, Sao Paulo, Rio de Janeiro, Bogota and Santiago.
The event in Santiago was held at the Interdesign Store, a premier contemporary design showroom with 30 years in the business. Interdesign works with Chile's top architectural firms and regularly designs large corporate, hotel and other development projects throughout the country. Over one hundred attendants from the design, fashion, music, art and architectural industries enjoyed the stunning selection of lamps, tables and other objects in copper and bronze on display.
The launch of Tom Dixon's collection coincided with the launch of the GREAT British Month in Chile, which will run throughout November. This is the fourth year of the GREAT campaign, which showcases the very best of what Britain has to offer in areas as diverse as technology, shopping, tourism, education, innovation, business and design.
At the event, Deputy Head of Mission of the British Embassy Santiago, Mal Green, said that Tom Dixon is "one of those creative people who can transform everyday objects, using simple materials, into the objects of desire, things we all want to have in our homes and look at every day"
.