China rolling stock manufacturer to begin maintenance operations in Argentina
Wednesday, November 5th 2014 - 07:05 UTC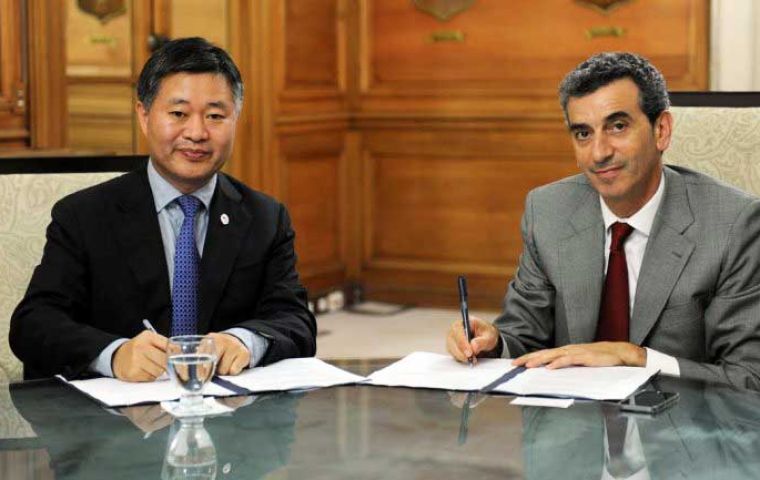 China's rolling stock manufacturer China South Railway, CSR-Sifang will establish a presence in Argentina in a workshop currently ran by State-owned Trenes Argentinos Operadora Ferroviaria, Interior and Transport minister Florencio Randazzo announced on Tuesday.
Following a meeting with the company's executives, Randazzo said that CSR Sifang's arrival "will bring the technological transfer much needed" for the recovery of Argentina's national railway industry and system.
The minister explained that an agreement had been reached for the establishment of a plant in workshops in Liniers that currently belong to Trenes Argentinos. He pointed out that this "will create new jobs," as the Chinese company uses Argentina's skilled labor.
Randazzo said that CSR Sifang will take on railways maintenance tasks and he did not rule out the possibility for future manufacture of railway equipment for Buenos Aires Metropolitan area as well as long distance trains.
"We are moving forward in the recovery of trains, which means the modernization of plants and workshops in the country," the minister said. He spoke of a new era where the country will be able to "offer high quality railway equipment, with the latest safety and comfort technology, just like the main world train manufacturers."
The Argentine government has bought 709 train carriages from CSR Sifang in the past, to renew Mitre and Sarmiento commuter train lines, valued in over 150 million dollars.
In related news the Mexican government announced on Monday that a consortium of Chinese and Mexican companies has been selected for a turnkey contract to design, build, operate and maintain the country's first high-speed line.
Ministry of Communications and Transport (SCT) director general for railway and multimodal transport Mr Pablo Suarez Coello confirmed at a press conference that the 210km Mexico City – Queretaro line will be build by a consortium comprising China Railway Construction Corporation (International), CSR Corporation, China, and Mexican construction companies GIA, Prodomex, GHP Mexican Infrastructure, and Teya Construction. Systra, France, will provide project management services.
Last month SCT confirmed the consortium submitted and only bid in an international tender for the contract with an offer of 3.75bn dollars excluding tax. China's Eximbank is providing an 85% long-term loan to finance the project.
The line will be designed for operation at up to 300km/h and is expected to carry around 27,000 passengers per day with a journey time of 58 minutes between Buenavista station in Mexico City and Queretaro. The project should be concluded by 2018.