US reply to Argentina: Soderberg's responsibilities as public servant not linked to bonds' dispute
Wednesday, November 5th 2014 - 04:30 UTC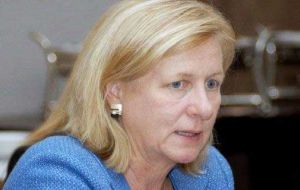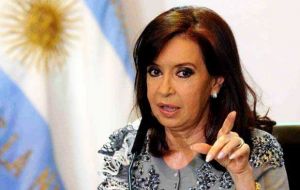 The US Department of State has backed the appointment of Nancy Soderberg as Chair of the Public Interest Declassification Board (PIDB), saying her "responsibilities" as public servant are "not linked" with Argentina's dispute with the holdouts, Argentina's Telam news agency reported.
Soderberg's position in PIDB led Argentine president Cristina Fernández to urge her counterpart Barack Obama to confirm whether Soderberg is also the Co-Chair of the American Task Force Argentina (ATFA), "an entity specifically created to attack and slander the Argentine Republic, its authorities and its President," warning about "grave implications for relations" between the two countries.
A spokesperson of the US Department of State explained that the PIDB "is an advisory committee created by the Congress in 2000 to promote public access to official national security."
"Ms. Soderberg is a private citizen who works part time in an advisory committee" he added. "Her responsibilities in the PIDB are not linked to any activity she might have as a private citizen in Argentina's dispute with bondholders."
The spokesperson pointed out that since the PIDB is a part time job, it is usual for its members to have other activities on the outside.
The Public Interest Declassification Board (PIDB) is an advisory committee established by the US Congress in 2000, in order to promote the fullest possible public access to a thorough, accurate, and reliable documentary record of significant U.S. national security decisions and activities.
The PIDB Board is composed of nine individuals, five appointed by the US President and one each by the Speaker and Minority Leader of the House as well as the Majority and Minority Leaders of the Senate. Appointees are to be U.S. citizens who are preeminent in the fields of history, national security, foreign policy, intelligence policy, social science, law, or archives.
On September 17, 2013, the Minority Leader of the Senate appointed Kenneth L Wainstein. On November 16, 2012, the President appointed Nancy E. Soderberg as chair of the Board. On May 18, 2012, the Speaker of the House appointed Admiral William O Studeman. On March 29, 2012, the Minority Leader of the House appointed David E Skaggs On February 10, 2012, the President appointed Martin C Faga and William H Leary as members. On March 6, 2014, the Majority Leader of the Senate appointed Sanford J. Ungar. There are currently two vacancies.