Cristina Fernandez 'stable' in hospital but will miss G20 summit in Australia November 15/16
Thursday, November 6th 2014 - 06:45 UTC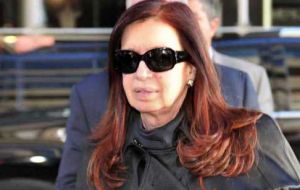 Argentine President Cristina Fernández has completed her third day in the Otamendi hospital after falling ill with a bacterial infection, according to the report released by the presidential Medical Unit.
Ms Cristina Fernandez is "stable" and will remain in the hospital receiving an intravenous antibiotic treatment for her diagnosed sigmoiditis, an infection of the colon.
The report states that the president will continue under observation at the Otamendi hospital, and after hospitalization, she will have to rest in the Olivos presidential residency for at least ten days.
This means President Cristina Fernandez will not be able to travel to Australia to take part in the upcoming meeting of the G20 group, which will be held between November 15 and 16.
Economy Minister Axel Kicillof and Foreign Minister Héctor Timerman will replace the President in the meeting.