Plaque dedicated to English soldiers in Cartagena triggers strong controversy
Sunday, November 9th 2014 - 10:23 UTC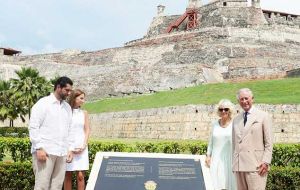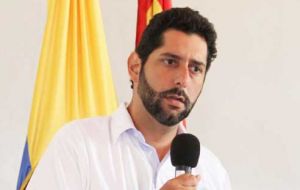 A Colombian engineer smashed a plaque commemorating the death in 1741 of thousands of English soldiers in the coastal city of Cartagena just days after it was inaugurated by Prince Charles, said the mayor of the city who has now ordered its removal.
During an official visit, Charles unveiled the black marble plaque last week with a text in Spanish that pays tribute to the bravery of soldiers led by Admiral Edward Vernon, who tried to wrest the city from Spain's empire.
Although it was the idea of Cartagena's Corporacion Centro Historico historical society, the plaque quickly caused a stir in the city proud of the victory by the far-outnumbered Spanish over the English invaders.
Cartagena Mayor Dionisio Velez Trujillo, who hosted Charles and Camilla Parker Bowles at the plaque's inauguration, said he was ordering its removal though it could be restored to the same spot with a modified inscription.
"It was never my intention to stir up this controversy or tread on sensitivities but I won't dig my heels in. A government has to avoid mistakes but when it's clear they've happened, it is obliged to rectify them," he said.
He said he would request that Cartagena's Academy of History come up with a replacement text for the plaque which local news websites showed bearing large cracks across its surface.
The plaque had been placed at the foot of the Spanish-built, 17th century San Felipe castle perched high on a rock overlooking the coast to defend against naval invaders. It is now a famous Cartagena landmark and tourist attraction.
The man who smashed the monument, Jaime Rendon, an engineer who describes himself as an environmentalist, told local radio he was "proud" of his act and that he destroyed the plaque in case the city hall failed to carry out its promise to remove it.
"It's an insult to the memory of the true heroes of Cartagena," Rendon said. He could face charges over the incident.
Sabas Pretelt de la Vega from the Corporacion Centro Historico said the plaque was intended to offer the English a tribute to their soldiers' lost lives in the battle won by the forces of Spanish commander Blas de Lezo despite the 190-strong English armada overwhelmingly outnumbering his troops.
"A barbarian smashed it to pieces," said de la Vega. "If there are historians and technicians who consider it's worth correcting and changing it and putting a better text, we'll do so with pleasure."
"The important thing is to ... show the world that here, Hispanic America did not fall into the hands of the English empire because of what Cartagena did in 1741," he said.