US unemployment down to 5.8%, the lowest since July 2008
Sunday, November 9th 2014 - 09:57 UTC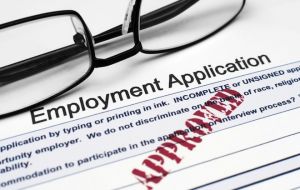 The US economy added 214,000 jobs in October, while the unemployment rate has fallen to 5.8%, official Labor Department figures show. The number of jobs created is slightly below forecasts of about 230,000 new posts, but still indicates a healthy US jobs market.
The figures are a significant gauge of the health of the economy. US employers have added at least 200,000 jobs for nine months in a row, the longest growth period since 1995. Jobs figures for August and September were also revised higher.
The burst of hiring lowered the unemployment rate to 5.8% from 5.9%. That is the lowest rate since July 2008.
Shares in New York were down shortly after the start of trading. The Dow Jones was 0.28% lower at 17505.28.
Chris Williamson, of financial information service Markit, said: "Anyone disappointed by the October number, which came in below expectations... needs to bear in mind that payrolls have now risen by more than 200,000 in each of the past nine months.
"This means that, so far this year, the economy has added some 2.285 million jobs, of which 2.225 million were in the private sector."
The number of unemployed in the US has dropped to 8.995 million, below nine million for the first time in six years. The work force participation rate, which counts those with jobs and those actively seeking jobs, was barely changed in October at 62.8%.
The financial crisis of 2008 has dented that rate, with some people simply giving up the search for work.
Although economic growth has picked up this year and job opportunities with it, this week's mid-term elections revealed employment was voters' top worry, suggesting many Americans have not yet felt any improvement.
The US central bank, the Federal Reserve, ended its stimulus program, known as "quantitative easing", last month. Its aim was to boost spending and investment by buying bonds, thus keeping long-term interest rates low.
The Fed has indicated it will raise short-term interest rates if the economy continues to grow. Its chairman, Janet Yellen, has given no firm date for the rise, but the Fed has said the move would be a "considerable time" after the stimulus program ended.
Ms Yellen said in a speech on Friday afternoon that she did not intend to jolt the market with a move: "The Federal Reserve will strive to clearly and transparently communicate its monetary policy strategy in order to minimize the likelihood of surprises that could disrupt financial markets, both at home and around the world."