Argentine president begins ten-day resting period in Olivos
Monday, November 10th 2014 - 08:37 UTC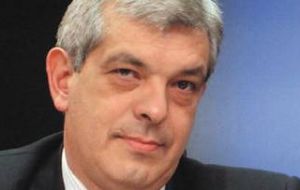 Argentine President Cristina Fernandez de Kirchner was discharged on Sunday from Otamendi hospital where she had been admitted a week ago to be treated for sigmoiditis, an infection of the colon.
The head of state is now resting at Olivos Presidential Palace, where she is to remain for the next 10 days, following medical advice, according to a brief release from the Presidential Medical Unit.
Cristina Fernandez was discharged given "the good evolution of the sigmoiditis event" she has shown the past week, according to the press release signed by doctors Marcelo Ballesteros and Daniel Fernandez.
In Olivos, the president will continue to take antibiotics and to follow a special diet and rest, with any travel counter indicated during ten days.
As was advanced because of the medical condition President Cristina Fernandez will not be travelling to the G20 summit in Australia on November 15/16. She will be replaced by Economy minister Axel Kicillof and Foreign minister Hector Timerman.
In related news a 2015 presidential hopeful and president of the Lower House Julian Dominguez said that President Cristina Fernández will be crucial in deciding the government's candidates for the coming year, when the head of state's successor will be decided in elections.
"The president is the architect of the future and those who are part of that, with institutional responsibilities, must prioritize the strengthening of our government's decisions," Dominguez indicated on Sunday.
The Victory Front lawmaker also criticized the possible candidates for 2015 who had already "self-proclaimed" their intention to run for election.
"I don't think it is a question of self-proclaimed candidacies, I think [the candidate] has to emerge from the party leaders and the Argentine people. We must work towards the building of a project that convinces Argentines," he underlined.
"The self-proclamation of individual candidates seems very vain to me."
Dominguez reiterated that no decision had been made on the Victory Front's choice to succeed CFK, highlighting that the tools already existed for a democratic designation of a candidate.
"I do not think anything is decided, in our space there is nothing decided. We will resolve it through the mechanisms that the PASO [primary elections] and the President's leadership provide," he explained.