Falklands' naval exercises: "regular routine training", says Ministry of Defense
Saturday, November 15th 2014 - 05:24 UTC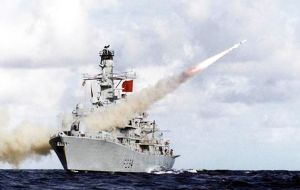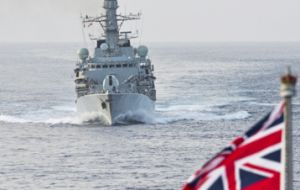 UK described recent combined military exercises in and around the Falkland Islands as part of regular routine training. The statement follows on Thursday's strong Argentine protest, (which claims sovereignty over the (Malvinas) Islands), and called the military exercises a "new provocation".
A Ministry of Defense spokesperson said in London that the frigate HMS Iron Duke on Atlantic patrol duties exercise, was part of regular routine training on and around the islands.
"Royal Navy warships undertake regular training in the use of their weapon systems".
"The gun fire exercise conducted by HMS Iron Duke in the Falkland Islands took place some weeks ago in October and was part of a routine training schedule planned long in advance".
Finally the spokesperson underlined that "there is no change to the UK's defense posture in the South Atlantic."
On Thursday Argentina made a formal complaint to the British embassy in Buenos Aires condemning military exercises in the South Atlantic, an area that has been declared by the UN "as a nuclear-weapon free, peace and cooperation zone".
The complaint also pointed out that the military deployment in the Malvinas Islands was "a new provocation" and "an unjustified show of force by a British frigate" which involved the firing of 136 rounds in the San Carlos bay. A British infantry brigade, 'which is part of the standing illegal military presence in the Islands', also participated in the combined exercise.
Earlier on Friday Argentine cabinet chief in his daily press conference at Government House in Buenos Aires insisted Argentina emphatically rejects military exercises "in Malvinas Islands because they represent UK's increasing militarization in the disputed area".
"We reject emphatically military maneuvers because they express a level of increasing militarization when the Republic of Argentina has urged (the UK) to abide by the resolution (2065) of the United Nations," Capitanich said.
Capitanich renewed Argentina's position that the UN had called on Buenos Aires and London to "dialogue for the restitution of our sovereignty in the Islands which we say must be reached in a peace scenario."