Something stinks in Petrobras: former director and leading contractors CEOs arrested on bribery charges
Saturday, November 15th 2014 - 07:52 UTC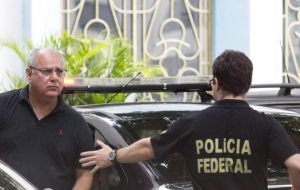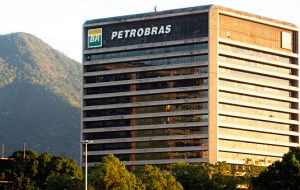 Brazilian police arrested a former Petrobras executive on Friday, sending the state-run oil company's shares and bonds down after a widening corruption scandal forced it to delay the release of its financial results.
Former engineering director Renato Duque was the second senior executive arrested at Petrobras, in an investigation into a money laundering and bribery scheme that allegedly skimmed billions of dollars off contracts and into political parties' coffers.
Police also raided the offices of leading construction and engineering firms, seized potentially incriminating documents and arrested 18 people suspected of involvement in the scheme. Local media reported two chief executives were among them.
The scandal has put pressure on populist President Dilma Rousseff, who narrowly won re-election last month. Rousseff, who has pledged a thorough investigation, was chairwoman of the Petrobras board between 2003 and 2010.
Recently one of the world's six most valuable companies, Petrobras has experienced one of the most spectacular corporate reversals in emerging market history. Its net worth has slumped 77% since 2008.
On Thursday, the company delayed the release of its third-quarter earnings and said it had hired to private law firms to investigate the allegations of money laundering.
Analysts and traders warned that Petrobras could be stripped of its investment grade rating and prompted to write down the value of reported capital expenditure in prior quarters.
Investors are concerned that the world's most indebted oil company is at risk of a technical default on tens of billions of dollars in bonds if it doesn't report audited earnings by the end of the year.
Ratings agency Moody's Investors Service said it was monitoring the situation, but the earnings delay would have no near-term impact on Petrobras' credit rating.
Trading in shares of Petrobras opened more than an hour and a half after the rest of companies on the Bovespa index on Friday. Shares were down more than 3% in late afternoon trading.
Petrobras plans to release unaudited results by Dec. 12. It did not set a date for publishing audited results, saying it would inform investors 15 days in advance.
Local newspaper Estado de S. Paulo reported earlier this month that PriceWaterhouseCoopers, which audits Petrobras' earnings, had refused to sign off on the third-quarter statement without a more in-depth internal probe into the graft scandal.
Some 300 police officers and 60 tax fraud agents were deployed in five states and the capital Brasilia on Friday. The investigation, dubbed "Operation Car Wash," was first launched in March as police investigated the alleged money laundering scheme.
Paulo Roberto Costa, a former Petrobras executive previously jailed in the case, has said in a plea-bargain deal that kickbacks of three percent from contracts were funneled to Rousseff's Worker's Party and its allies in Congress during his time as head of refining between 2004 and 2012. Police say some 10 billion reais (3.84bn dollars) was skimmed off contracts.
Police said on Friday the offices of seven companies that had contracts worth billions of dollars with Petrobras were being searched.
Odebrecht, a major construction firm, said its offices in Rio de Janeiro had been searched and documents seized. It said it was complying fully with the police investigation. Another construction firm, Mendes Junior, said police officials had been at its offices in Sao Paulo. Builder OAS said it had provided access to all requested documents and information at its headquarters in Sao Paulo.