Thousands march in Buenos Aires marathon in support for Falklands' dialogue
Monday, November 17th 2014 - 06:01 UTC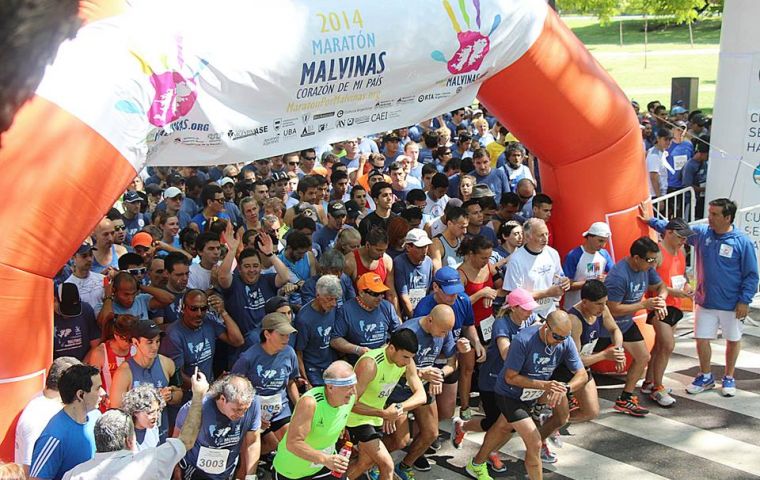 Thousands of people participated Sunday in a race organized by Argentina's government to press for a dialogue with Britain over the Falkland Islands, officials said."#YoCorroPorMalvinas was a success! More than 10 thousand people came out today to say Yes to a dialogue for the Malvinas," Malvinas Islands Affairs Secretary Daniel Filmus said in a Twitter post.
Runners had the option of competing in one-kilometer, three-kilometer or 10-kilometer races certified by the Metropolitan Sports Federation.
Argentina claims sovereignty over the Falkland Islands, which have been in British hands since the early 19th century. London refuses to discuss the Islands' political status, contending that the South Atlantic archipelago's residents are the only ones who can determine the territory's future.
Despite repeated invitations from the Foreign Office, Argentina refuses to hold tripartite talks since it considers Islanders, in president Cristina Fernandez words, "squatters".
Falklands residents voted overwhelmingly in 2013 to remain British in a referendum that has not been recognized by Argentina.
On April 2, 1982, thousands of Argentine troops invades the Falkland Islands. Full-fledged fighting in the Islands, officially began on May first 1982, with the arrival of a British task force and ended 45 days later with the complete surrender of Argentine forces.

The conflict launched by Argentina's military regime, claimed nearly 1,000 lives - some 700 Argentines, 255 British soldiers and sailors and three Falkland Islanders.
Eighteen months after the surrender in the Falklands the Argentine military regime was over with a new democratically elected government under president Ricardo Alfonsin, 10 December 1983.