National Guard ready to act in Missouri waiting for jury decision on killing of black teenager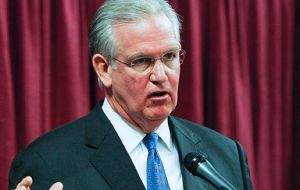 The governor of the US state of Missouri has activated the state's National Guard in anticipation of a grand jury decision over the killing of an unarmed black teenager. In a statement, Jay Nixon said the guard will "support law enforcement's efforts to maintain peace".
A panel is deciding whether to charge Officer Darren Wilson in the August death of Michael Brown, 18. No specific date for the jury's decision has been given.
The St Louis County prosecutor has said he expects the grand jury to reach a decision in mid-to-late November.
Michael Brown, 18, was shot and killed by Mr Wilson in August after a confrontation in Ferguson, a majority-black suburb of St Louis.
Witnesses say Brown had his hands up in apparent surrender to the officer when he was shot. Police have said there was a struggle between the teenager and the officer before the shooting.
The teenager's death set off protests, sometimes violent, in the area. Ferguson police and other law enforcement were criticized for being heavily armed and using excessive force during protests.
Mr Nixon signed an state of emergency order on Monday, activating Missouri's National Guard.
"As part of our ongoing efforts to plan and be prepared for any contingency, it is necessary to have these resources in place in advance of any announcement of the grand jury's decision," the governor said in a statement.
The order also puts the St Louis County police department in charge of policing protests, instead of Ferguson police.
Protests have continued in the area over the past few days in anticipation of a grand jury decision, including several dozen who marched in freezing temperatures in Clayton, where the grant jury is meeting, on Monday.
"Something about the way Mike Brown was killed started a fire in me that I can't ignore," organizer Dhorbua Shakur said.