Brazil's economy growth forecast could have reached a positive inflection point
Wednesday, November 19th 2014 - 08:06 UTC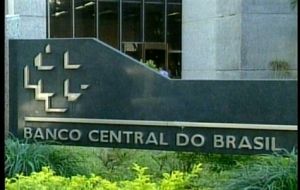 Private sector analysts raised their 2014 growth forecast for Brazil's economy to 0.21% from 0.20% last week, the Central Bank said on Monday. But analysts left their 2015 gross domestic product (GDP) growth estimate unchanged at 0.80%, the Central Bank said. However it is expected the latest forecast could mean the beginning of the end to the sustained several years slide and an inflection point.
The GDP growth estimate was included in the Boletin Focus, a weekly Central Bank survey of analysts from about 100 private financial institutions on the state of the national economy.
Brazil's economy, according to official figures, contracted by 0.60% in the April-June period, marking the second consecutive quarter of negative GDP growth and meeting the technical definition of a recession.
Brazil's GDP expanded by 7.5% in 2010, but the economy posted tepid growth of 2.7% in 2011 and just 1% in 2012. Latin America's largest economy grew 2.3% in 2013.
The government expects the economy to grow 0.90% this year, while the Central Bank sees GDP expanding at a 0.60% rate. The analysts surveyed for the Boletin Focus expect the country to end 2014 with an inflation rate of 6.4% and for prices to rise 6.4% in 2015.
The government has an inflation target of 4.5% for this year, with a 2 percentage point band that allows a top-end rate of 6.5%. Brazil ended 2013 with an inflation rate of 5.91%.
A surge in prices at the start of this year appeared to threaten the government's target, but inflation has finally eased in the wake of interest rate hikes by the Central Bank.
Analysts expect the Central Bank's benchmark rate to end the year at 11.5% and to be hiked to 12% in 2015.