Former Brazilian minister blames Argentina for lack of EU/Mercosur trade accord
Thursday, November 20th 2014 - 05:05 UTC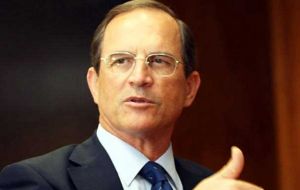 A former Brazilian Development minister and currently member of the board of BRF, one of the world's leading food corporations, Luiz Fernando Furlan said Brazil is far away from world trade agreements and urgently needs to review policies in this area, including participation in Mercosur.
"Mercosur is stalled, maybe it's time to declare the independence of Brazil from that group", said Furlan revealing that on two occasions Argentina's attitude impeded the possibility for Mercosur of signing trade agreements with the European Union.
Furlan added that if Brazil manages to grasp 'independence (from Mercosur)' it could sign bilateral agreements with other countries and blocks, without the need of the unanimous support from other members of Mercosur, as is the case currently according to the group's charter.
"I mention the case of Peru, which despite having a left leaning president, it is growing faster than Brazil. They have less inflation and are far more attractive for foreign investors, and this is because it is a member of the Pacific Alliance" argued Furlan during a conference on "State-Competitive Brazil".
Furlan also mentioned the need for Brazil to increase exports of goods with greater added value. "We're proud of being the world's leading producer of coffee, but has any of you been able to purchase coffee in a supermarket outside of Brazil, or a coffee brand overseas identifying Brazil?"
The minister's statements were made during moments of great financial uncertainty in Brazil, following on Dilma Roussef's very tight re-election and expectations over the name and inclination of the next team in that field. Not to mention the corruption scandal involving the country's largest corporation and not so long ago among the top list of global oil and gas companies.