Mexican president hails Obama's decisions on immigration
Saturday, November 22nd 2014 - 06:54 UTC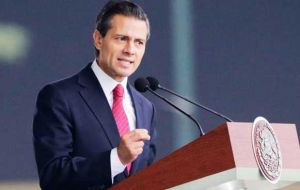 Mexican President Enrique Peña Nieto hailed US President Barack Obama's sweeping steps on immigration, saying they were "most important measures taken in several decades" and would allow families to stay together.
Obama's plan, unveiled on Thursday, eases the threat of deportation for some 4.7 million immigrants, many of them Mexican, who are in the United States without legal documents.
"I want to publicly recognize the President of the United States for yesterday's announcement," Peña Nieto told a conference in Mexico. "These measures bring relief to principally Mexican immigrants."
"Those who will benefit will be migrants of Mexican origin who have been living in the United States for years ... This is an act of justice which recognizes the great contribution of millions of Mexicans to the development of our neighbor."
There are about 11 million undocumented immigrants in the United States. Obama's plan would let some 4.4 million who are parents of US citizens and legal permanent residents and who have been in the country for at least five years remain in the country temporarily, without the threat of deportation.
An additional 270,000 people would be eligible for relief under the expansion of a 2012 move by Obama to stop deporting people brought illegally to the United States as children by their parents.
Peña Nieto said he had instructed Mexico's consular service to help those Mexicans who wish to take advantage of the reform.