Argentine central bank discards 'any devaluation' of the Peso in 2015
Monday, November 24th 2014 - 06:37 UTC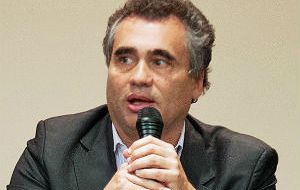 The head of Argentina's Central Bank Alejandro Vanoli reaffirmed that "there won't be a devaluation" of the Peso next year and stressed that the government of President Cristina Fernandez will not give in to pressure from the financial market and the export sector.
However, the official said that it does not mean that "the exchange rate will remain fixed."
Vanoli explained that the Central Bank's goal is to maintain a managed floating exchange rate regime. "Argentina does not have a fixed exchange rate," he said.
The official said that the US dollar rate should remain at a level that ensures competitiveness of Argentine exports and at the same time prevents "financial instability and excessive volatility."
Vanoli praised the recent government efforts against a new run on the Argentine peso and said that the fall in the price of the US currency in the parallel or 'blue' market was a result of a series of decisions by the monetary watchdog.
"All this happened as a result of a series of measures, mainly the political decision to not give in to pressures." Vanoli said that the government has sent "clear signs that devaluation was not an option".
Short of hard currency because of its isolation from world money markets, and with Argentines mistrustful of their government policies and the local Peso, the administration of Cristina Fernandez has been applying strict controls on the purchase of foreign money and imports, desperately trying to keep an appropriate level of international reserves at the central bank.
The policy lately has been to raid money exchange houses, financial institutions and companies involved in foreign trade, mostly to freeze demand for dollars, while at the same time negotiating with China and local farmers.
With China, Argentina activated a bilateral currency-swap agreement, which meant that the Argentine central bank received an initial tranche of Yuan equivalent to 814 million dollars. The swap has a cap equivalent to 11 billion dollars.
Regarding farmers, which are holding back onto millions of tons of grains and oilseeds, the Argentine government has agreed to pay with a mechanism that ensures an improved exchange rate, which has also helped the Central bank to start receiving fresh dollars from exports.