Despite Argentine protests, BBC Top Gear Patagonia episode will be aired in Christmas
Tuesday, November 25th 2014 - 22:33 UTC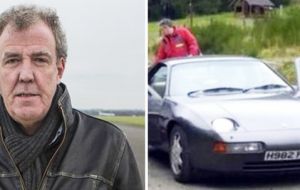 After refusing to apologize to Argentina over a much questioned Top Gear episode filmed in Argentina considered "offensive" by the government of President Cristina Fernandez, the BBC has taken the controversy to the next level, deciding to air the episode in the network's prime-time Christmas slot.
The conflict began a couple of months ago when Clarkson was seen driving a Porsche with a licence plate "H982FLK", making Argentina Falklands war veterans and Argentine media to voice complaints as it recalled the year of the war and the British name of the islands, "Falklands".
Argentina's Ambassador to Britain Alicia Castro, has made formal complaints, accusing Clarkson and the program of being "provocative, bias and insulting" and aiming at the network's executives for dismissing too hastily the Argentine government's requests and ignoring BBC own guidelines.
On Monday Ms. Castro sent a formal letter to the Chair of the BBC Trust, Mrs Rona Fairhead requesting to reconsider the network's refusal to "appropriately manage" the complaint about the show's star Jeremy Clarkson.
Despite Argentina's protest, the BBC has confirmed that Top Gear will air in a prime-time Christmas slot this year, alongside favorites such as 'Doctor Who', 'Call The Midwife', 'Mrs Brown's Boys' and 'Strictly Come Dancing.'