Falklands experience in energy projects attracts strong interest in Latam conference and Chile
Tuesday, November 25th 2014 - 22:59 UTC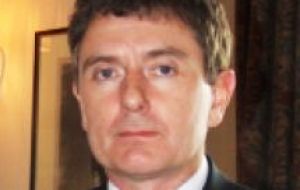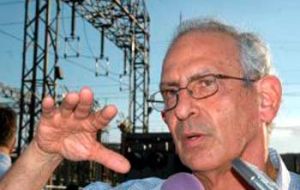 The Falkland Islands experience in implementing energy projects, both conventional and wind farms was shared with the attendants of the recent RELACCX (Renewable Energy Latin America and Caribbean Conference and Exhibition) event, held in Puerto Rico, and where Falklands' engineer Glenn Ross was an invited speaker.
"The How and Why of successful project implementation" was the title of the conference given by Mr. Ross, a chartered engineer who manages the small conventional diesel fuelled power station in Stanley, capital of the Falklands, and the Sand Bay Wind Farm. Population of Stanley according to the 2012 census is approximately 2.200.
The RELACCX event was presented by ACORE (American Council on Renewable Energy) at the stunning venue of El Conquistador Resort in Puerto Rico.
Speaking to a broad range of financiers and developers of renewable energy projects in the Caribbean and Latin America regions, Mr. Ross highlighted the key components for success in the small off grid systems.
To that effect Mr. Ross presented the Sand Bay wind farm, which provides 32% of the annual electrical energy required by the Falkland Islands capital Stanley and can become a case study for small isolated populations with many off-grid communities in Latin America.
There were many interesting and progressive presentations and excellent panel discussions. Glenn Ross said a highlight was the presentation by Emilio Rappaccioli, Nicaraguan Minister for Energy and Mines with whom he later held a very fruitful exchange.
"With their range of incentives and vision the present Nicaraguan government have moved their country from a position of power shortages and limited access into a position of at times 84% of their energy being provided by renewables", Rappaccioli told Ross.
Mr. Ross was a special guest of RELACCX, following on a visit to Colombia of Falklands lawmaker MLA Barry Elsby where he held a raft of meetings with officials in different fields. Particularly interesting was with Pablo Reyes of CEELAT (Centro de Estudios Estrategicos Latinoamerica) which led to the invitation for Chartered Engineer Ross.
The Falklands energy expert is currently in Punta Arenas, Chile, holding meetings with Dr. Humberto Vidal from the University of Magallanes and CERE (Centro de Estudios en Recursos Energéticos) to discuss on alternative energy projects particularly for off-grid populations.
Last year experts in the field of renewables from Chile visited the Falkland Islands and after witnessing the impressive levels of control which have let to at times 73% wind into diesel penetration, have been anxious to know more about the Islands experience.
Dr. Vidal spent a week in the Falkland Islands last year to see for himself the wind farm at Sand Bay and his visit prompted the invitation for Glenn Ross to attend the current series of meetings with experts and decision makers in the Magallanes region who are looking at options for renewables and in particular to support the Puerto Williams community of Isla Navarino. It is estimated that Chile has as many as 4.000 off grid populations in Chile.
More info: Falkland Islands progress in renewable energy surprises Chilean experts.